TIGER programme - SZE's first university graduates together again after 25 years
The alumni of the TIGER international programme who graduated from the first university programme of the Győr institution 25 years ago, met again at Széchenyi István University. In her welcome speech at the event, Dr Eszter Lukács, Vice-Rector for International Affairs, emphasised that the success of the University of Győr today is based on the foundations laid a quarter of a century ago by the leaders of this programme.
In the mid-1990s, there was a strong demand for engineers who could speak German. International practice showed that there was also a great need in our region for professionals who were familiar with the transport infrastructure overall and capable of solving transport construction and transport management problems. Recognising this, the Slovak University of Technology in Bratislava and the predecessor of Széchenyi István University, Széchenyi István College, developed and implemented a two-year German-taught university programme in transport engineering within the framework of the TIGER (Transport Infrastructure in German) educational programme, with financial support from the European Union's Tempus programme, and from 1995 onwards based on students from the two institutions.
In retrospect, this has proved to be a successful collaboration, and its results are still being felt today. This was the first master's degree in Győr.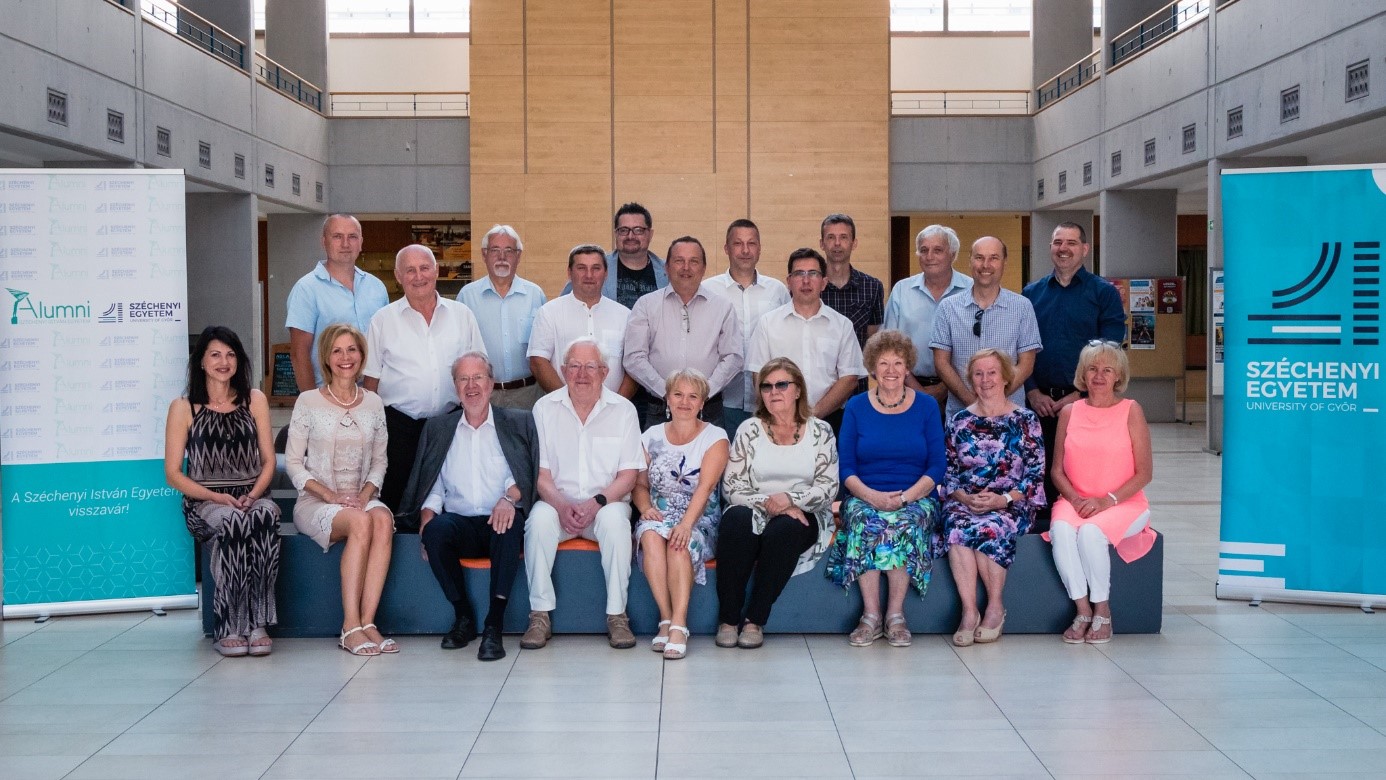 The event was attended not only by Széchenyi alumni, but also TIGER leaders, professors and lecturers: from Austria Johann Litzk; from Bratislava, Bystrík Bezák and Katarína Bacová; from Győr, Eszter Lukács, Csaba Koren, Róbert Szepesházi, Ferenc Horvát, Edit Koren, Mária Petőcz and Éva Török-Pusztai; (Photo: Csaba József Májer)
The TIGER programme was a model
The programme was managed and coordinated by Professor Csaba Koren at Széchenyi University's predecessor, with Dr Róbert Szepesházi, Associate Professor, as teaching methodology leader and Dr Bezák Bystrík, Professor at the Slovak University of Technology in Bratislava, as co-leader.
"Many of the international contacts that were established during the degree programme are still alive, because although the leading lecturers of the 1990s - like myself - have retired, the successors have in many cases maintained cooperation in the framework of various projects. The TIGER programme was a clear model for our English-taught Master's programme in Infrastructure Engineering, which started in 2014. Programmes taught in a foreign language and dual programmes have subsequently been introduced in other fields at the University." – said Dr Csaba Koren, linking the importance of the past with the present.
The golden triangle has come to life
On the 25th anniversary, the former participants and teachers of the course met again at Széchenyi István University, where they were welcomed by Dr Csaba Koren, Dr Bezák Bystrík, Dr Róbert Szepesházi and Professor Johann Litzka, as well as by Dr Eszter Lukács, the institution's Vice Rector for International Affairs. As she said, the success of the TIGER programme has been a key factor in our long and enriching cooperation with the technical universities of Vienna and Bratislava, which continues to this day. "We have brought to life the idea of the 'Golden Triangle'," she said, referring to the continuing and increasingly dynamic development of the economic area bordering the three neighbouring capitals.
In her speech, Dr Lukács thanked Dr Csaba Koren, former Director for Internationalisation, for his work. "Our success today builds on the foundations laid by him and his colleagues a quarter of a century ago. Dr Csaba Koren was a decisive pioneer for the future of higher education in Europe," she said in praise of the professor.
In her speech for the 25th year celebrations, she added, "Today the internationalisation of Széchenyi István University is impressive. The institution now offers more than 40 English-taught university programmes, and more than 800 international students study here. The number of self-financed students is growing rapidly every year. We are also proud that this year, for the second consecutive year, our University has been ranked in position #801-1000 in the QS World University Rankings, putting us in the top 4 per cent of universities in the world," Dr Lukács pointed out.
There was a very good atmosphere at Széchenyi István University for the anniversary meeting.
TIGER - the experience of a lifetime
Dr Emese Makó, a former student of Széchenyi, now head of SZE's Department of Transport Infrastructure and Water Resources Engineering, and main organiser of the jubilee alumni meeting, told us about joining the programme: having just obtained her Civil Engineering college degree, she considered it a very good opportunity to obtain an additional university degree, more especially in German.
"During the training, we could only communicate with our Slovakian fellow students in German. This forced us to actively use the foreign language outside the classroom and gave us the opportunity to form a real community. Without exaggeration, I can say that those two years were one of the most special and defining experiences of my life," said Dr Makó.
"The time spent with foreigners opened me up and still shapes my work and my human relations. After graduation, I was invited by Dr Koren to work in the department, where I have been involved in several international projects over the last twenty-five years. I obtained my doctorate at the Technical University of Bratislava, which can be seen as a continuation of TIGER in my own career," she stressed.