CORONAVIRUS VACCINATION CERTIFICATES - 3rd vaccination
Archived content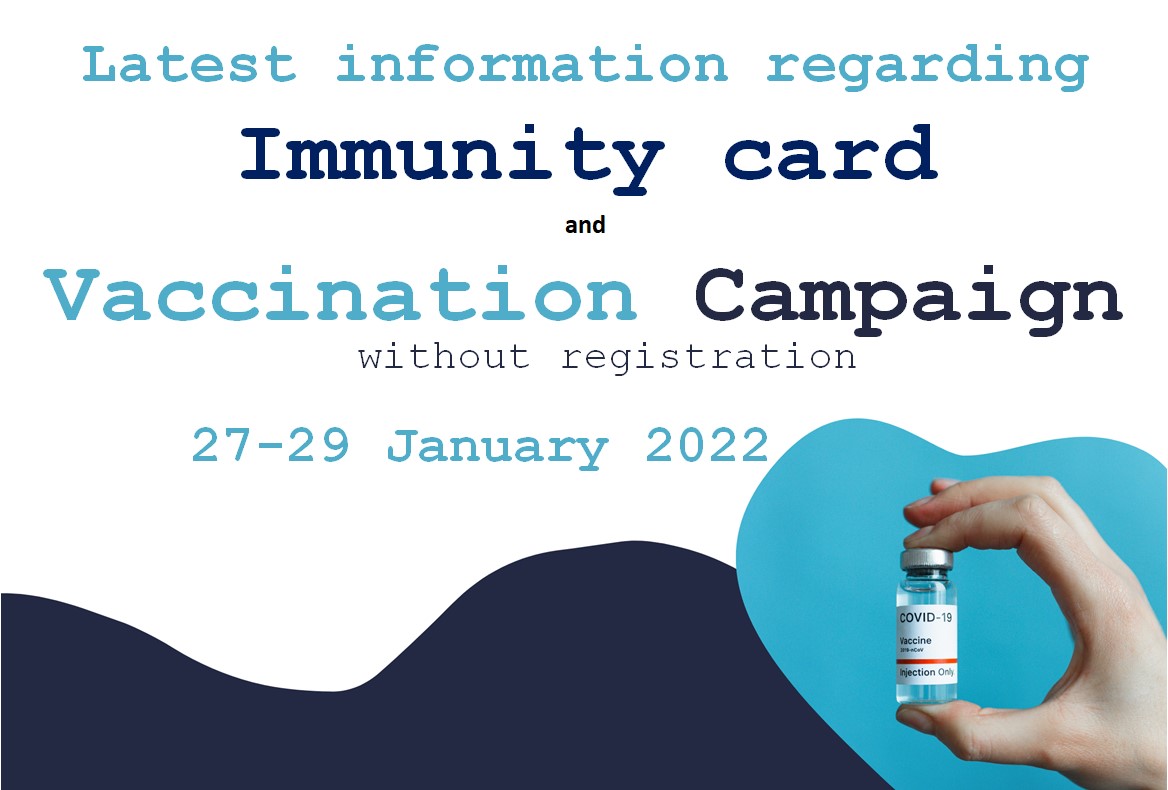 Dear International Students,
For your information, here below please find summarized important new changes on the subject of CORONAVIRUS VACCINATION CERTIFICATES.
As already announced by the government, in order to further increase vaccination coverage and to protect against new waves of the epidemic, the immunity certificate will be converted into a vaccination certificate from 15 February. Only those who have been vaccinated will have their cards valid.

Unvaccinated persons will not be entitled to a vaccination card even if they have contracted an infection, and any immunity card issued for a current case of infection will lose its validity.

The card will be valid for six months after the second vaccination, after which validity will, as a general rule, be extended only after a confirmatory third vaccination. If someone becomes infected after two vaccinations, their card will be valid for 6 months from the date of confirmation of infection.

After the confirmatory third vaccination, the card will be valid indefinitely.

For those vaccinated with a single dose of Janssen, the confirmatory second vaccination must also be taken within 6 months for the card to remain valid.

There will be no need to replace the current vaccination cards, the QR code will be used to check the validity of the document.

It is important that operators of venues and event organisers of events that are only open to protected persons are obliged to check the immunity card.

Please note that those who wish to receive the vaccination or the booster vaccination as soon as possible can easily do so without booking an appointment during the current January vaccination campaigns.
Students who are already resident in Hungary and who can prove this with a valid document, are entitled to vaccination.  Please note that registration for the vaccine must be made on an individual basis, according to the information on our previous web page:
https://admissions.sze.hu/hungarian-immunity-certificate#Vaccination
VACCINATION WITHOUT PRIOR REGISTRATION
The Hungarian government regularly organises vaccination promotion days, when you can get vaccinated without registering. In this case, you will need to visit a vaccination centre on the day of the campaign.
The next campaign will take place on 27-29 January 2022.
The vaccination centre in Győr is at:
COVID vaccination point - Petz Aladár University Teaching Hospital
Location: Vasvári Pál u. 2-4 , Győr
Located in building "A" of the hospital (access via the main entrance from Vasvári Pál u. - Győr Plaza).
More information (in Hungarian): https://www.petz.gyor.hu/covidoltas