All international students at Széchenyi István University can be vaccinated against coronavirus
All international students studying in Hungary can register for the coronavirus vaccine, including those on Stipendium Hungaricum scholarships, self-funded students and  Erasmus+ exchange programme students. At Széchenyi István University, several young people have already taken the opportunity and received the vaccination.
"I got the vaccine in April. The Chinese vaccine was offered and I accepted. I didn't expect anything else because I made sure all of them were effective. It doesn't matter if it is American, German or Chinese, the point is to protect myself and my family," said Rami AlSamhouri, who is studying for a Master's degree in Marketing at Széchenyi István University, thanks to the Stipendium Hungaricum Higher Education Scholarship Programme, launched by the Hungarian government.
The Jordanian student feels safe in Győr and is also satisfied with the vaccination procedure. "Everything went very professionally and it all took just ten minutes. Now I'm just waiting for the vaccination certificate so I can get my old life back, " he said.
"I trust in science," says Rami AlSamhouri.
(Photo: József Csaba Májer)
Like Rami, Mathapelo Motimele, a South African student at the University, was among the first to take advantage of the vaccine. The young woman, who is studying to become a logistics professional, arrived in Hungary in the middle of October last year.
"I registered for the vaccination as soon as I could because I knew it is only via vaccination coverage that restrictions can be alleviated. I am confident that in summer I will be able to travel around the area," she said. She also added that she is looking forward to when University life returns in September.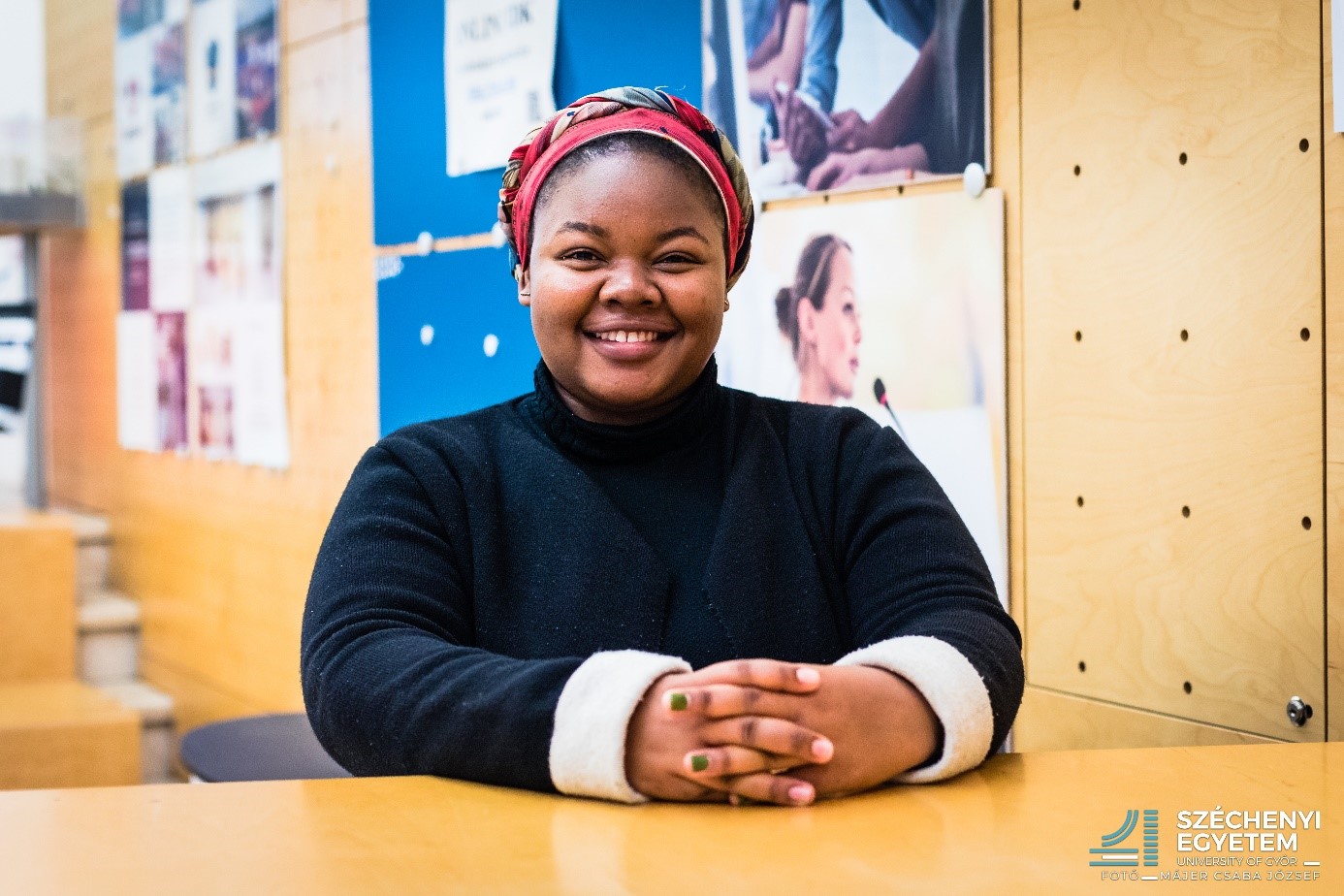 Mathapelo Motimele, who wants to complete her Master's degree at Széchenyi University, is planning for the long term in Győr.
(Photo: József Csaba Májer)
Cristian Caro from Colombia is also one of those who has had their first vaccination. The Master's student in Infrastructural Engineering believes that herd immunity is the key to defeating the virus, which is why it is our common responsibility to take up the vaccine.
" They say for the economy to restart and services to open up, seven out of ten people need the protection of the vaccine. That's why we need to work together," he stressed. "I think it's only a matter of time, and with the vaccination certificate all countries will be open to visitors. My friends think so too, and we are all happy with the vaccination programme," Cristian remarked.
"I was never afraid of the virus, but I felt I had to have the vaccination," said Cristian Caro
In answer to our question, Dr Eszter Lukács, Vice-Rector for Educational Affairs said that, according to the decision of the Hungarian government, all foreign citizens living in Hungary are entitled to register for the coronavirus vaccine. This opportunity is naturally also available to all international students, including those studying in the framework of the Stipendium Hungaricum Higher Education Scholarship Programme and the Erasmus+ Scholarship, as well as to self-funding students. There are currently six vaccines available (Pfizer, AstraZeneca, Sputnik, Janssen, Moderna and Sinopharm).
"Our University's Centre of International Programmes has informed all international students about this opportunity, which many have already taken advantage of. We hope that even more people will register in the coming period, thus contributing to the protection of their own health and the health of their environment," emphasized the Vice-Rector.