Ambassador of India to Hungary learns about SZE's development
Mr Partha Satpathy, India's Ambassador to Hungary, saw the dynamic development of Széchenyi István University during his recent visit to the Győr campus. The Ambassador was briefed of the institution's expertise in the fields of engineering and technology, as well as its close ties with businesses.
Mr Satpathy, India's Ambassador in Budapest, took up his assignment in Budapest in the first half of this year. He came into contact with Széchenyi István University immediately after his arrival in Hungary, since after the outbreak of war in Ukraine, he played a major role in helping to evacuate Indian and other international students from the neighbouring country. At the time, 121 students were temporarily admitted to the Győr institution.
This selfless help was also mentioned during the Ambassador's visit to Széchenyi University. Dr Eszter Lukács, Vice President for Global Strategy, explained to him how the institution, with nine faculties and some 13,000 students, has become a true university in recent years. She explained that the number of international students has now grown to around 1,000, originating from almost 70 countries around the world and studying on the nearly 40 English-taught programmes. The Vice-President spoke about the excellent location of Győr - close to three capitals, Budapest, Vienna and Bratislava - and the major infrastructure developments that have been completed and are underway, such as the construction of the Science and Innovation Parks in Győr and Zalaegerszeg, and the implementation of the Győr Health Technology Campus.
Mr Satpathy said that it was special that technical, engineering and technological fields play such a major role in the high level educational and research activities of Széchenyi István University. He added that the institution's close partnership with companies and its business focus, offering many opportunities for Hungarian and international students, is also exceptional.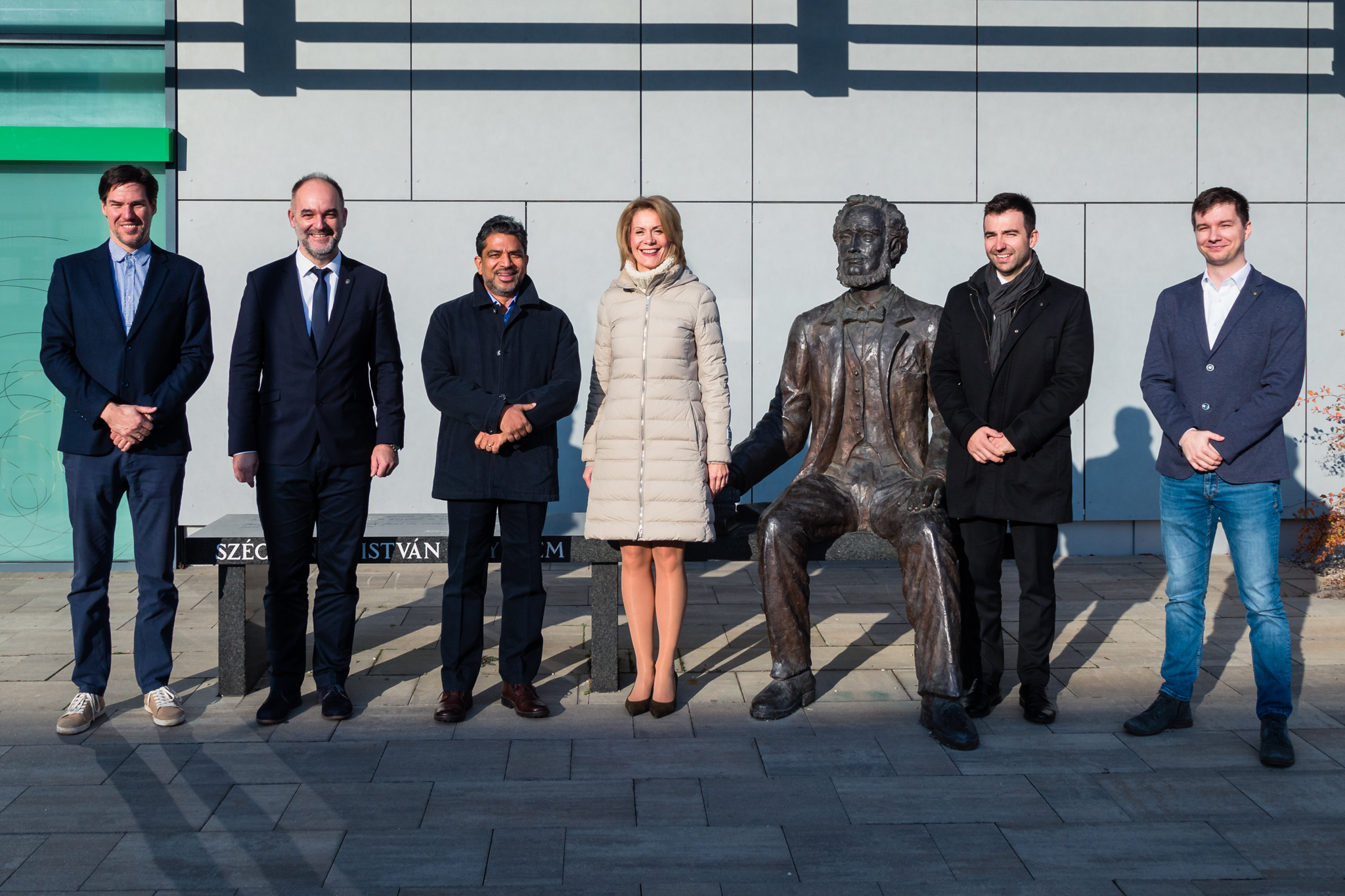 Ambassador Partha Satpathy (third from left) and representatives of Széchenyi István University at the Széchenyi statue in front of the Management Campus (Photo: Csaba József Májer)