CYBER SECURITY CONFERENCE AT SZÉCHENYI ISTVÁN UNIVERSITY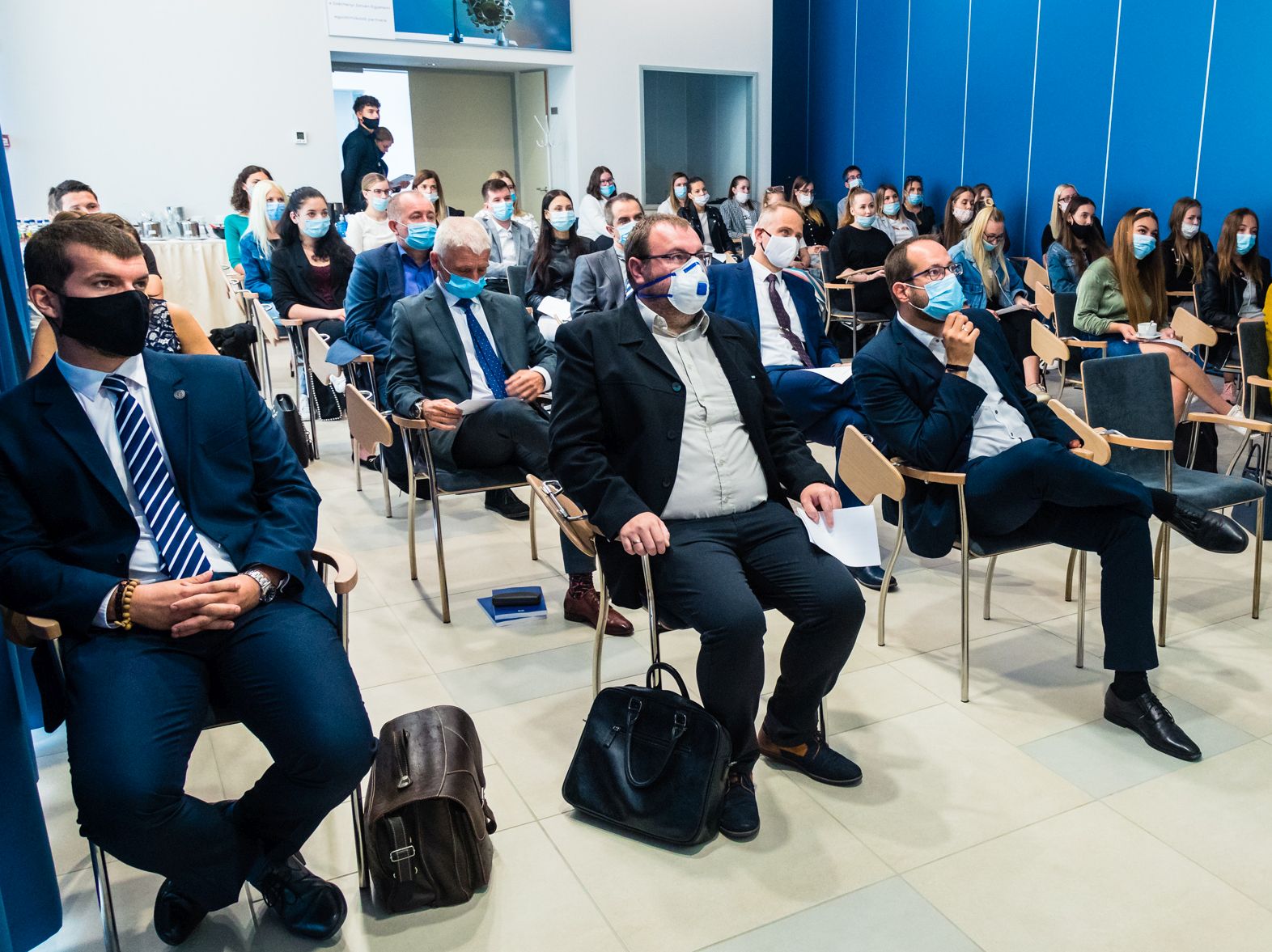 Cyber security has become a key issue
Cyberspace – i.e. the space for online data traffic and communication - is becoming more and more diverse in everyday life, which is why cybersecurity should be given more and more emphasis. On Wednesday, 10 September, a workshop on this theme was held at Széchenyi István University with representatives from academia, the government and the corporate world.
The Audi Hungaria Ingolstadt Lecture Hall in Széchenyi István University's Management Campus was completely full for the workshop on cyber security. In her greeting, Dr Eszter Lukács, Vice-Rector for Educational Affairs, drew attention to the fact that Széchenyi István University operates in a knowledge rectangle, the "corners" of which are the university, the government, the business world and the civil sphere. The university sphere was represented by Marymount University, Virginia (via one of the guest speakers), the University of Public Service and naturally Széchenyi István University with the event being supported by Faculty of Mechanical Engineering, Informatics and Electrical Engineering, the Kautz Gyula Faculty of Economics, the Deák Ferenc Faculty of Law and Political Sciences as well as the Globalization Competence Centre and the Digital Development Centre. From the business sector, T-Systems Hungary participated in the workshop, and the government sector was represented by Brigadier General Pál Kádár, Chief Government Counsellor of the Prime Minister's Office and Colonel Károly Kassai, Head of the Cyber Defence Centre of the Military National Security Service, who in addition to the nation-state aspects addressed the NATO and the European Union perspectives. Several of the speakers stressed the importance of individual awareness.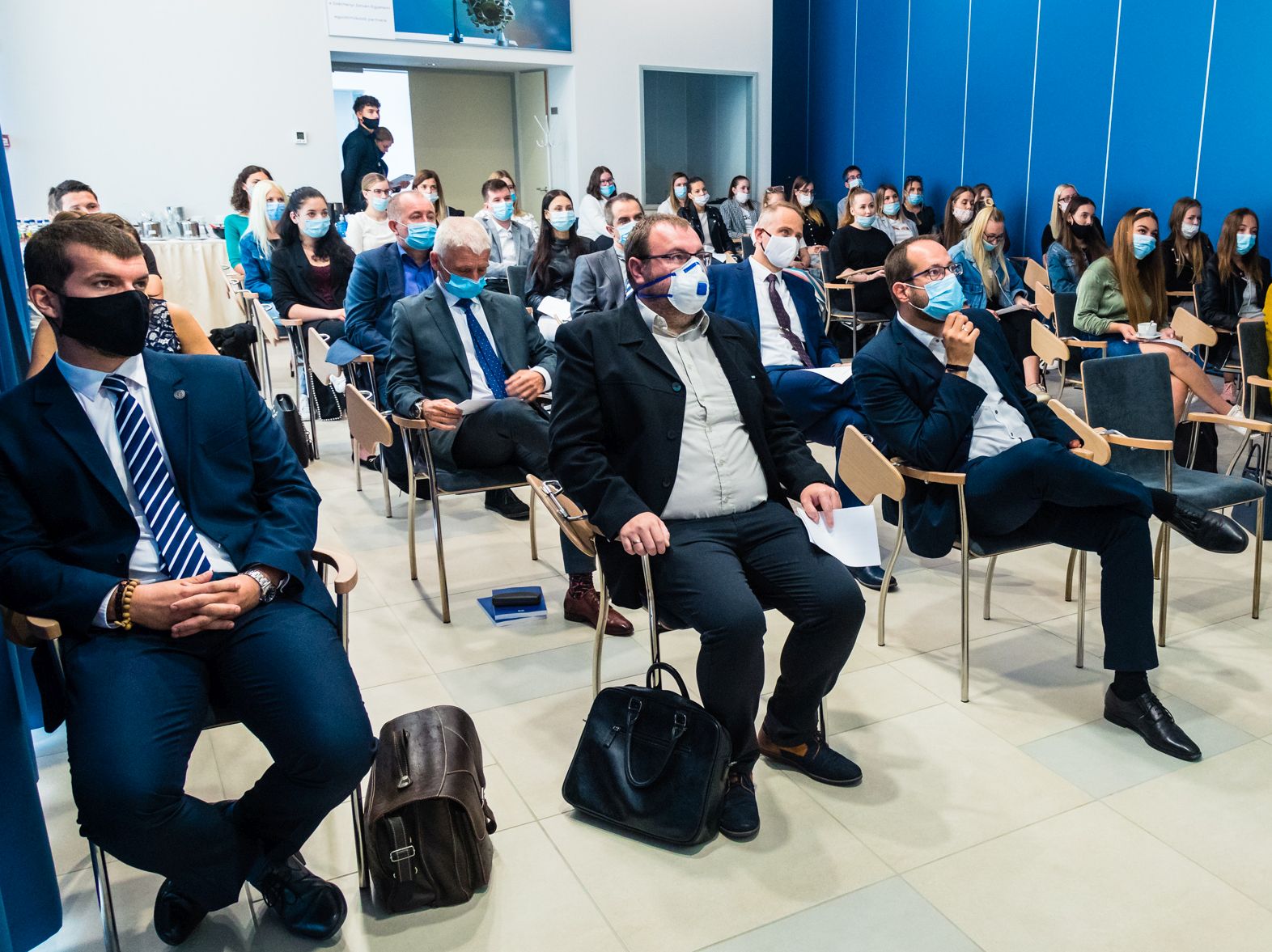 The conference attracted a lot of interest
The epidemic has resulted in even more threats
In the spirit of the cooperation between Széchenyi István University and Marymount University, Dr Diane Murphy, a department head at the U.S. institution, addressed the participants with a video message on the challenges of cyberspace education and research. She emphasized that the threats posed by cyberspace are global. "The current pandemic has resulted in more vulnerable people online and more threats from cybercriminals, hackers and increasingly, nation states. We have to be concerned about denial of service attacks, ransomware, intellectual property theft, and disinformation campaigns to name a few" she said noting that despite the severity of the problem, a 2017 study found that by 2022, in the cyber security segment, there would be 1.8 million vacancies.  
Dr Murphy believed that this field, which they see as an independent discipline, poses significant challenges to universities. One of them is that there are few instructors who really understand and are able to teach in this field, so external specialists must be employed. The other is that the knowledge is very fresh and constantly changing, but it is also a difficulty that due to the sensitivity of the topic, it is difficult for students to gain practical experience.
Dr Diane Murphy
Information can also be used as a weapon
In his presentation, Arthur Keleti, Head of IT Security Strategy at T-Systems Hungary, sought the answer to what we are doing today and what we will be doing ten years from now for cyber security. He believed that the root of many of our future problems would be the smart devices around us, and we would have to decide how much privacy we were willing to give up in order to get, for example, convenience or data in return. The expert stressed that cybercriminals have realized that information or even processes like the GDPR can be used as a weapon.
"Certainly hundreds of millions of dollars in extortion virus claims have been paid out by companies, government organizations, cities, and the first fraud using a human-like voice generated by artificial intelligence has occurred," he said, referring to the dark side of the new world. However, he indicated that there are solutions, such as a consolidated, coordinated cybersecurity cloud or the fact that cybersecurity can be purchased as a service, and that the next decade will be about these.
Keleti Arthur 
We must sacrifice security
Captain Ádám Farkas, a member of the board of the Hungarian Military Legal and Military Law Society responsible for scientific activities, gave a presentation on the role of cyber security in the state defence and security system. He explained that the collapse of the Soviet Union had generated a false image of security, while the rapid development of information technology had produced extraordinary security effects that Europe did not want to face. As an example, he cited the terrorist attacks of 2015-2016, which ISIS orchestrated employing video game chat interfaces.
According to the expert, it should also be seen that controlled competition by capitalism is not merely economic competition, but continuous intelligence, industrial espionage, influence, subversion, manipulation of market-shaping phenomena and, if necessary, the threat or use of armed force. He added that even before the emergence of global capitalism in today's sense, a space opened up expansion for information technology, whilst continuous digitization results in vulnerable systems that can be exploited from other parts of the world.
Dr Farkas spoke about one of the characteristic problems of the transatlantic region: here, society is wary of strengthening the state for fear of dictatorship, and armed bodies are often demonized. "It's worth going beyond these innervations. We must make sacrifices for security," he said, adding that if civil-state, interstate, scientific and practical professional cooperation does not come about in this area, we will not win this war.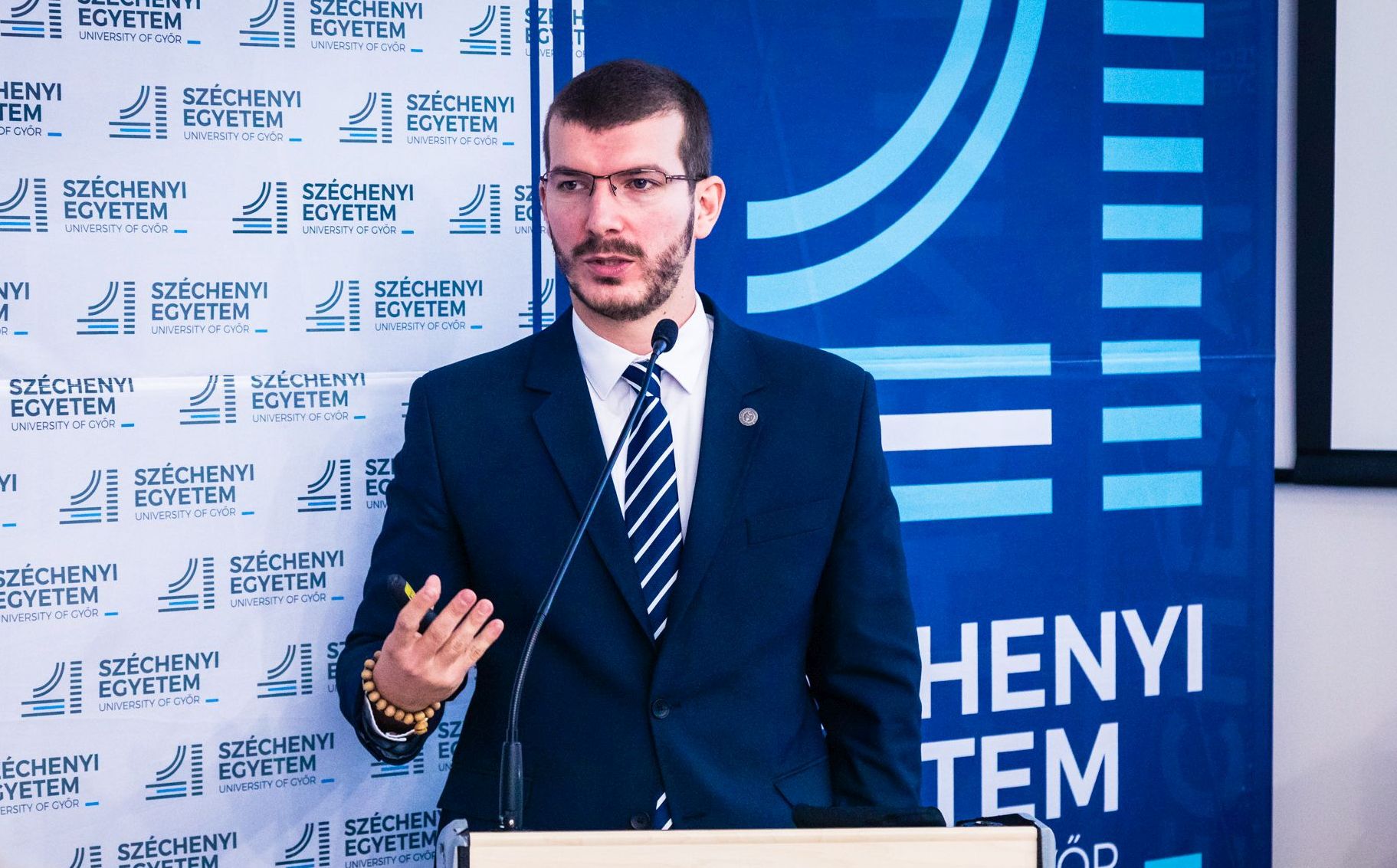 Dr Ádám Farkas
Colonel Károly Kassai, Head of the Cyber Defence Centre of the Military National Security Service, outlined the development of NATO's approach to cyberspace. He said the politico-military organization now considers cyberspace as an area of operation in addition to land, air, sea and outer space. In addition, the European Union adopted a cyber defence framework in 2018, the essence of which is the protection of federal and EU operations, the support of the independent defence of nations and the establishment of cooperation, exchange of information and coordination. The colonel stressed that there has been a significant shift in focus in recent years, and today this area is no longer just a technical IT issue. "Military operations must also be interpreted in cyberspace. The constant threat requires constant cyber defence thinking, and in addition to reactivity, preventive solutions are also needed," he emphasized. He stated that keeping systems security up to date, including vulnerability testing, is a minimum requirement, cyber security awareness needs to be strengthened, cyber security threat data collection and analysis needs to be carried out on an ongoing basis, and detection, analysis and response need to be practiced in every way possible.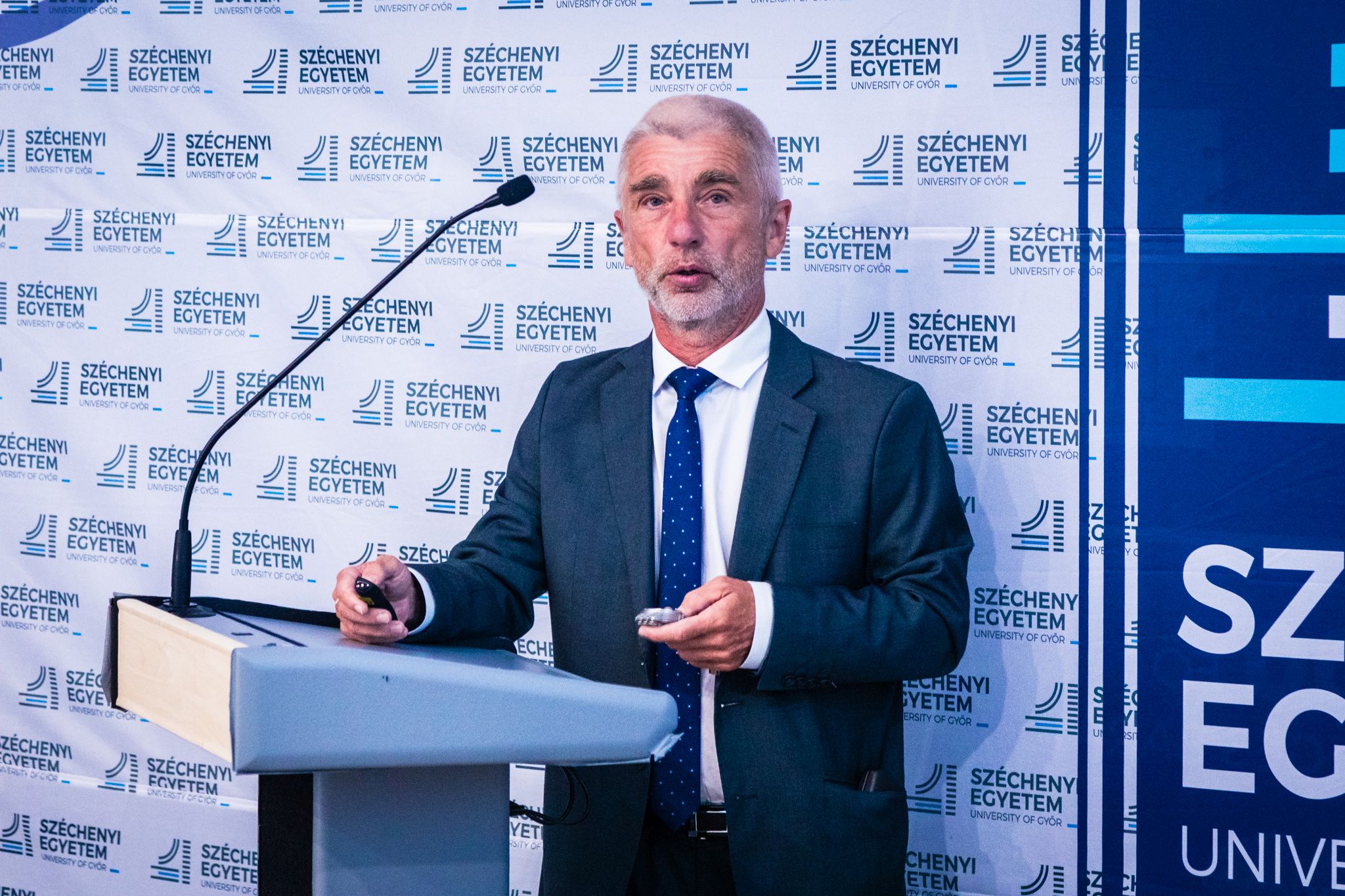 Dr Károly Kassai
Cybersecurity related subjects in the curriculum
Dr Sándor Répás, associate professor of the Faculty of Mechanical Engineering, Informatics and Electrical Engineering of Széchenyi István University, revealed that the institution has been dealing with cyber security issues for decades. Since 1986, the specialization in railway computer engineering has been about solutions for protection against viruses attacking personal computers, which six years later was already a separate course in the field of technical informatics. In 2002, this subject featured in the Bachelor's and later in the Master's programmes of technical information technology. There are four such programmes in the current curriculum: BSc in Systems Operation and Security, BSc in Computer Data Security, MSc in Coding Theory and MSc in Information Security.
Dr Répás also reported that in this field there have been published more than thirty diploma theses, Student Scientific Society prize winning dissertations and other publications, and one lecturer has conducted research around the topic in Japan. In addition, education and research on IT and information security topics is conducted in several computer labs of the university. The associate professor did not hide the difficulties either: cyber defence is split into more and more sub-areas, the number of attack and defence methods and instruments is increasing, so that more and more background knowledge is needed on the part of the students, while, considering its significance and its volume, little time is available for teaching it.
Professor György Wersényi, Dean of the Faculty of Mechanical Engineering, Informatics and Electrical Engineering, and chairman of the University's Digital Development Centre and 5G Competence Center opened in the spring, said government-funded research was aimed at a number of 5G-related topics, such as drone technology, precision farming, or the health effects of 5G. In addition, they have an accredited radio frequency testing laboratory, including European-level measurement technology, instrumentation and competence, in which they deal with research and development and equipment certification, covering the entire radio frequency spectrum. Testing engineer Olivér Takács added that the laboratory meets industrial needs, such as research on protection against radio communications and eavesdropping, with the help of market partners.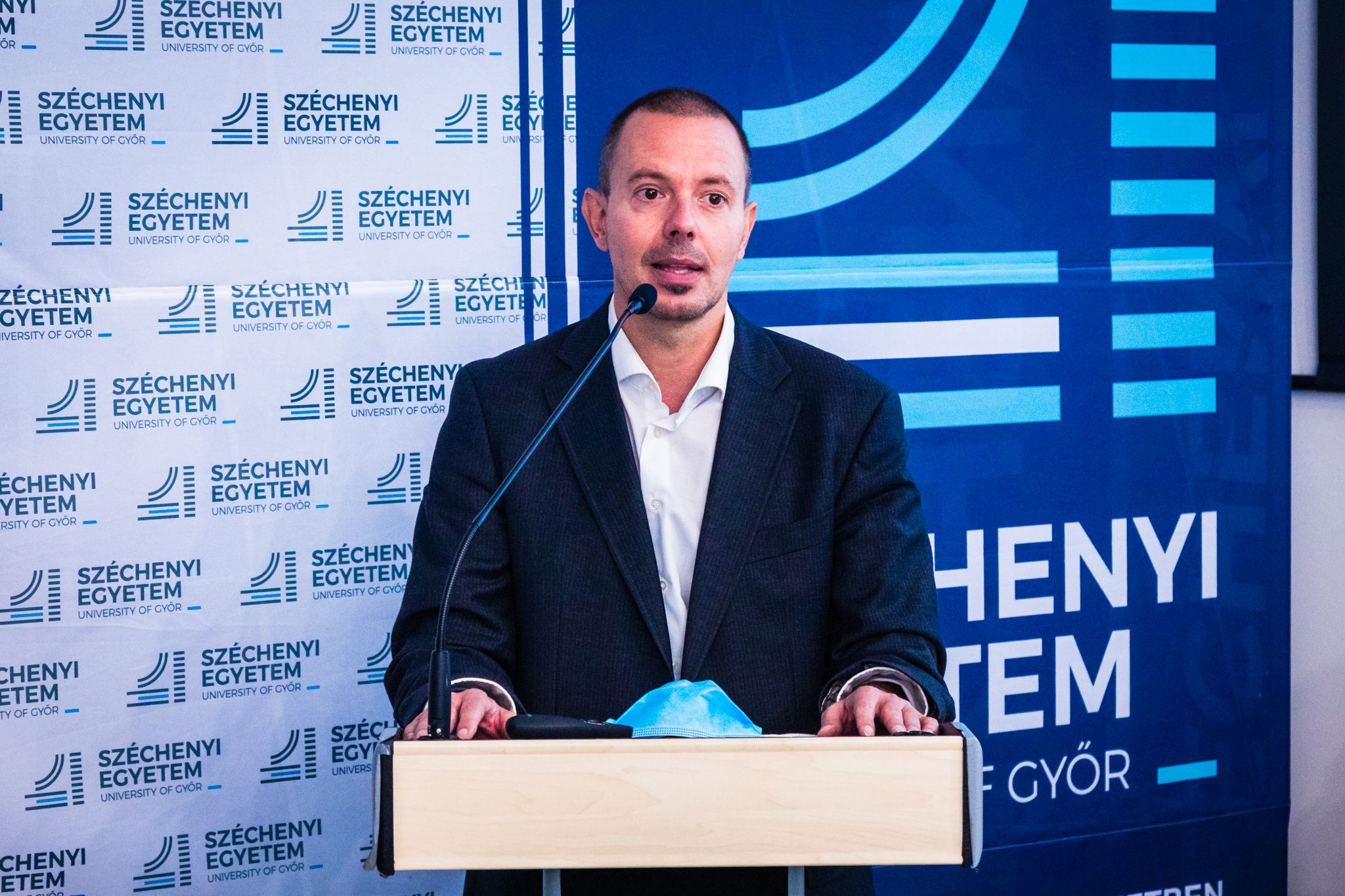 Dr György Wersényi
Aware system users need to be trained
In closing, Dr Roland Kelemen, the main organizer of the workshop, and an assistant lecturer at the Deák Ferenc Faculty of Law and Political Sciences, spoke about the multidisciplinary approach to cyberspace. He said cyberspace cannot be examined from just one field of science, informatics. "Cyberspace itself has made the world and the economy global, but it has also made the possibility of attacks global," he underlined. He also stated that cyberspace influences a person's self-awareness and role in reality, and that processes occurring in traditional space, such as terrorism or interstate conflicts, also appear in cyberspace. Underlining the importance of the topic, he stressed that while the US National Security Report 2009 contained only a few sentences about cyber threats, the latter was already one of the prime challenges. He added that by 2021, the activities of cybercriminals worldwide could cost $6,000 billion. According to Dr Kelemen, for the solution to this it is very important to train aware system users.