FIRST COMPETITION ENGINEERS GRADUATE FROM SZÉCHENYI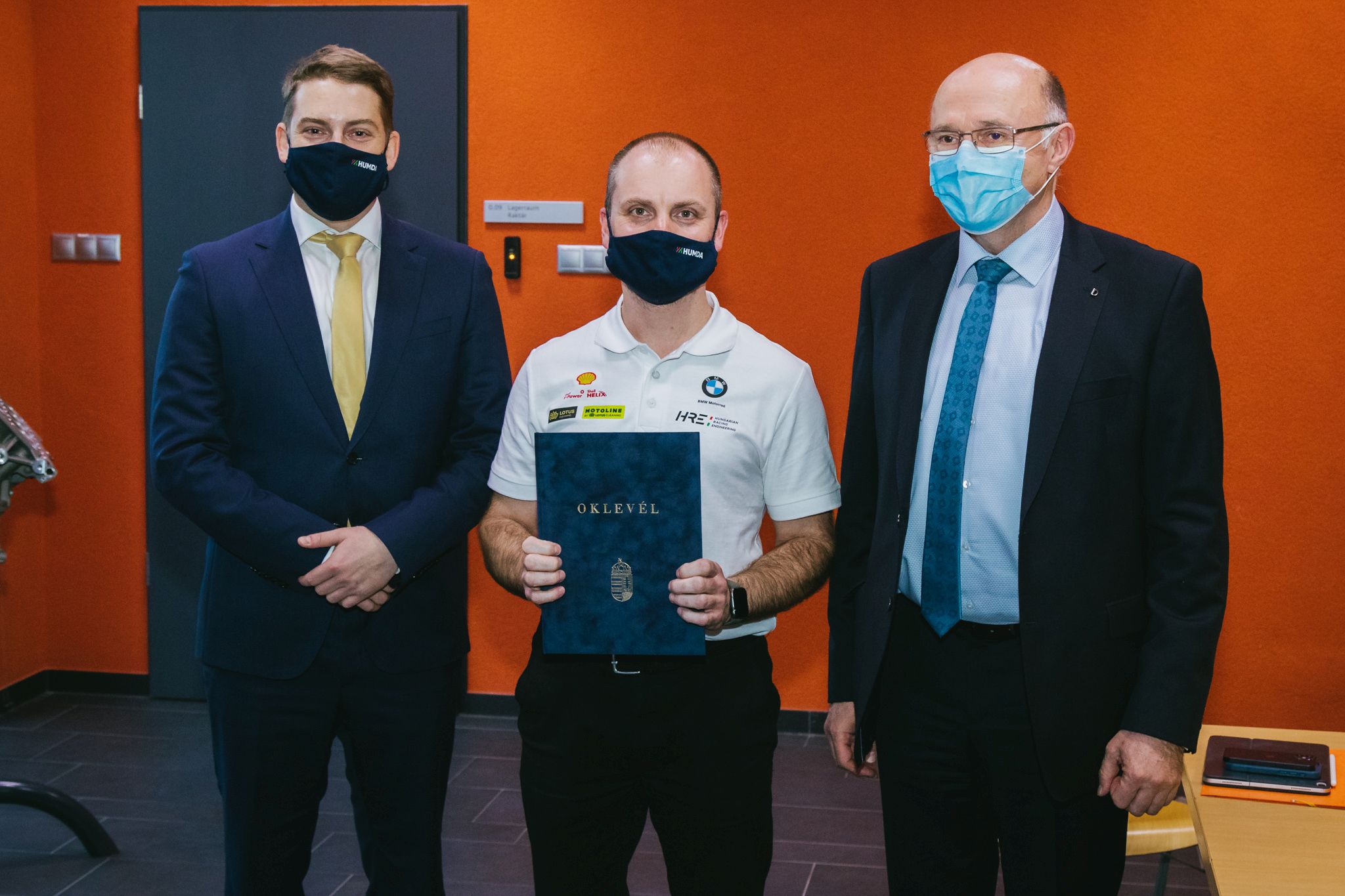 Széchenyi István University is a leader in technical education in Hungary. This was further evidenced by the institution when it launched a unique Competition Engineer programme two years ago. Students of the first cohort – among them Gábor Talmácsi, world speed motorcycle champion – recently received their diplomas.
29 January 2021 - Hancz Gábor
The aula of the Department of Internal Combustion Engines at Széchenyi István University was the venue for a special occasion: the eleven students who had completed the integrated motorcycle and racing engineering training launched in 2019 were receiving their diplomas. Most of them had come from a team of professionals grouped around the Hungarian Motorcycle Technical and Vocational School (MAMI). This programme training professionals specifically for technical sports is unique not only in Hungary, but also in Central Europe
In his speech, Dr Barna Hanula, Dean of the Audi Hungaria Faculty of Automotive Engineering at the University, drew attention to the "historical" nature of the event, saying that those present were the first in Hungary to obtain a diploma in competition engineering, in this complex field with shortages of talent. The educator-researcher, who has a significant competitive engineering background and is an iconic figure in the field, thanked everyone for the work they had invested and for their enthusiastic participation. In his professional evaluation, Dr Dániel Feszty, Head of the Department of Vehicle Development, was pleased to report that all students received the maximum score for their dissertation defence and this level will serve as a benchmark in the future. He added that they can be counted on as instructors in the future. "I am confident that we can also be part of an outstanding programme at the international level as well," he stressed.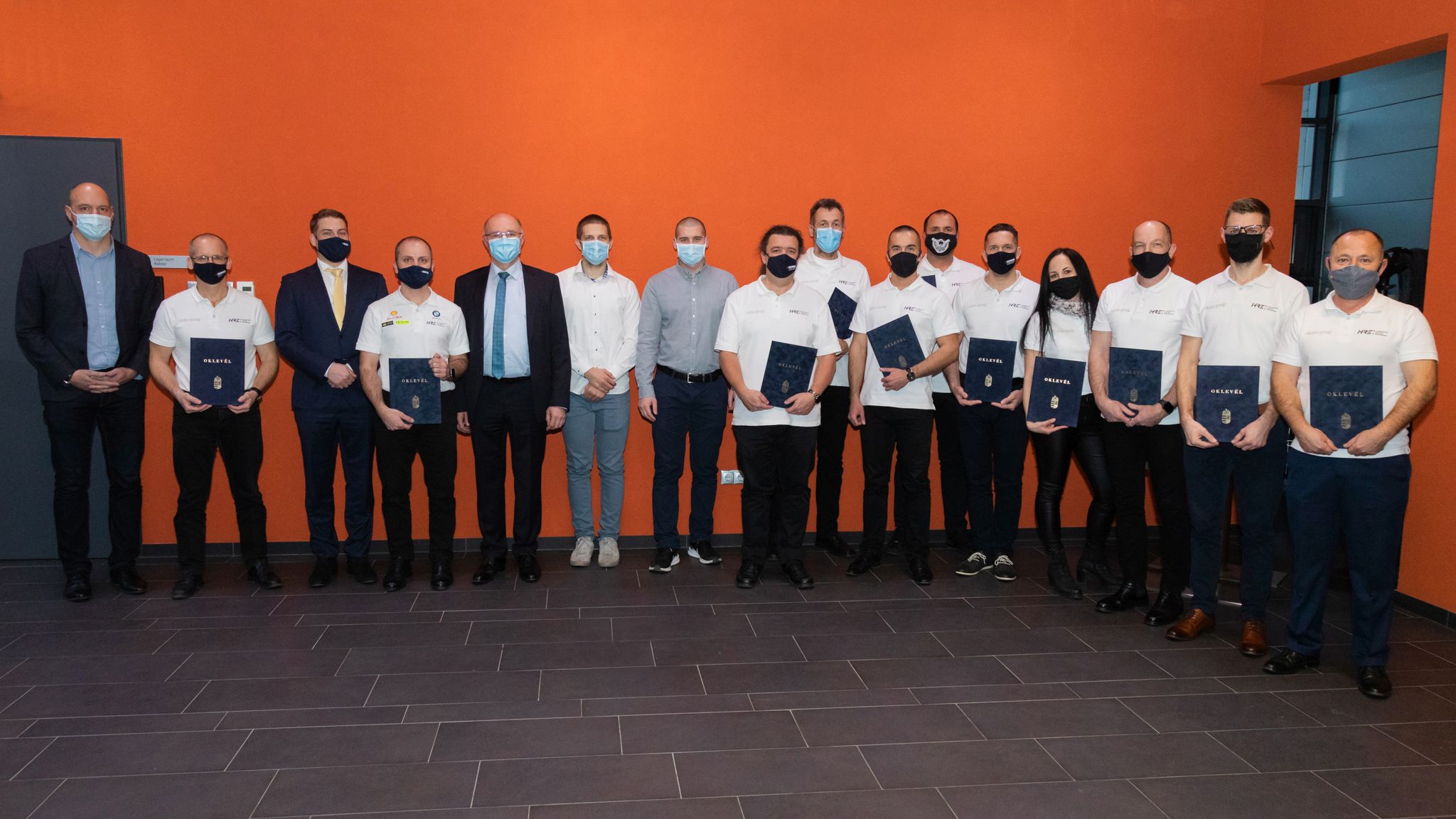 The graduates were the first to receive a degree in competition engineering in Hungary. Photo: Csaba József Májer
The event was attended by Balázs Weingartner, Chief Adviser of the Ministry of Innovation and Technology and CEO of the Hungarian Motorsport Development Agency (HUMDA), who stated that their goal was to promote the social usefulness of motorsport and motorsport - including automotive industry connections, engineering training and youth education. According to him, very important for this are partners such as Széchenyi István University and the Hungarian Racing Engineering Team, which was established last year as a kind of Hungarian motorsport academy, providing practical opportunities for professionals and competitors. He emphasized that based on these values, the country is able to present a much more complex expertise and mentality in these areas.
One of the proud graduates was János Frecska, a practical instructor at MAMI. "Ever since I can remember, I've been motorcycling and assembling engines. I gained a lot of extra, useful knowledge in this training from telemetry to chassis alignment, so I am extremely satisfied," he replied.
Also among the graduates was Gábor Talmácsi, who in 2007 won the world championship in the 125 cubic centimetre category of MotoGP, performing an unforgettable feat. "Although there is one person sitting on the motorcycle in a motorcycle race, it is still a team sport. This was also proven in this training, as we learned a lot from each other," he explained. - I applied for this training to further hone my existing knowledge and to be able to work with engineers. Meanwhile, using my experience as a racer, team leader and team owner, I also taught in the areas of chassis, geometric settings and ergonomics, and I will continue to teach. The topic of my dissertation was the ergonomics of motor racing and I would like to specialize in that."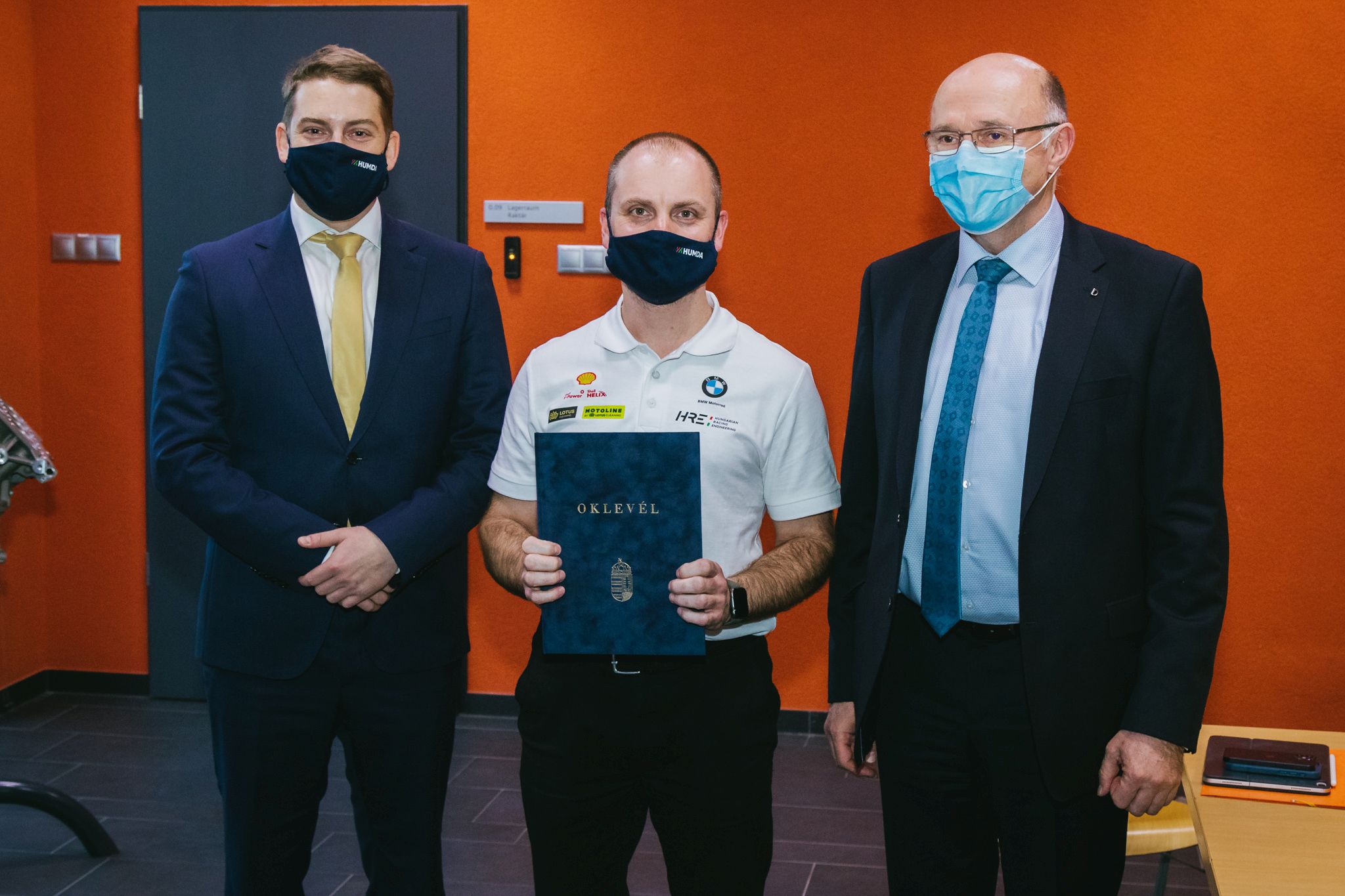 Gábor Talmácsi, world speed motorcycle champion (middle), Balázs Weingartner, Chief Adviser at the Ministry of Innovation and Technology and CEO of the Hungarian Motorsport Development Agency (left) and Dean, Dr Barna Hanula, offered their congratulations. Photo: Csaba József Májer