Japanese student honoured with Excellence Award realises her dreams at SZE
"If I hadn't found this scholarship, I would never have been able to afford to study abroad," said Suzune Kawamoto, a student at Széchenyi István University, who was recently awarded the Stipendium Hungaricum Student Excellence Award in recognition of her academic achievements and community involvement. The Japanese girl said that she lives her days in a dream come true and feels obliged to live up to the trust placed in her.
The Stipendium Hungaricum is an excellence-based higher education programme established by the Hungarian Government to internationalise Hungarian higher education and increase its international competitiveness. Since the programme was launched in 2013, Széchenyi István University has received numerous SH scholarship students from abroad. One of them is Suzune Kawamoto from Japan, who recently received the Stipendium Hungaricum Student Excellence Award, established by the Tempus Public Foundation.
The jury said that in addition to her achievements, the international studies student deserved the award for her exemplary diligence and her volunteer mentoring work for the international student community.
Suzune has been working hard since childhood to achieve her dream and make it abroad
(Photo: Csaba József Májer)
 "I applied because, apart from the prestige of the diploma, I was very motivated by the fact that my family could see that I was doing well away from home and that I was on the right track towards my goals. I consider it an honour to study in Hungary via the Stipendium Hungaricum programme and I will try to repay the trust they put in me when I applied. I feel it is my moral duty to take my studies seriously and to try to get the best grades possible," said the Japanese student.
For Suzune, the Stipendium Hungaricum scholarship has given her the opportunity to study outside her homeland in a European country with internationally competitive higher education.
"Since childhood, I have wanted to study abroad. I love English and I am interested in other cultures, societies and different environments. I find that people in Hungary live in more relaxed conditions than in Japan and can find a good work-life balance. In addition, universities here place more emphasis on students' individual insights and ideas, as well as on project-based group assignments," explained Suzune.
Because of the Stipendium Hungaricum scholarship, the Japanese girl's compass pointed towards Hungary, but the question arises: why did she choose Győr?
"I came from Tokyo, probably the busiest city in the world. Győr is a much calmer place, even compared to Budapest. People walk the streets without a care and have time to contemplate. That's exactly what I wanted," the student said.
Suzune has come to love the Hungarian language, Hungarian gastronomy and Győr's architectural heritage. (Photo: Csaba József Májer)
Suzune is extremely satisfied with the quality of education at Széchenyi István University. She particularly likes the fact that, unlike in Japan, professors ask students for their opinions and then discuss them together. The number of presentations she has to give in different subjects, which is less common in her home country, also surprised her. The young Japanese woman experienced a mentality in Győr that she immediately fell in love with. The interactive sessions, the hands-on projects, the group work solutions all impressed her.
"I have grown a lot professionally since I arrived here. Apart from studying history, sociology and law, I find learning about the European Union very interesting. There is no other supranational organisation like it anywhere else in the world. My personal research topic is the situation of immigrants and the question of minorities; I am writing a research paper for the Scientific Students' Association on this topic, focusing on Japan's immigration policy," she said.
Over the past two years, the scholarship has also helped the Japanese girl to develop her personality. She used to be modest, hiding in the background when she had to give a presentation, but now she has shed her stage fright. One thing, however, has not changed: she always strives for perfection, but she added that she also sometimes makes mistakes.
"Although I have never failed an exam, I did get a 2 last year. I said to myself: I can't get a 2, so I went to improve it and in the next exam I got a 5. It was the first time I have repeated an exam," she said, recalling the incident with a laugh.
For the Japanese girl, the award is a recognition that she will be proud to show to her family
(Photo: Csaba József Májer)
 Suzune arrived in Győr in 2020, in the middle of the pandemic period. "After Covid, I was able to join the international community and make new friends. This semester, I'm already working as a mentor, trying to help new international students settle in," said the young woman, who has also found love in Hungary.
"With my peers, we started a Japanese language self-study circle, which we advertised in several places, and some Hungarian students joined us. We meet regularly in the library. That's where I met a computer engineering student, who is Croatian on his father's side and Hungarian on his mother's side. The acquaintance turned into love, and we have been living together ever since. I'm happy to be able to rely on him, which means a lot to me," she revealed.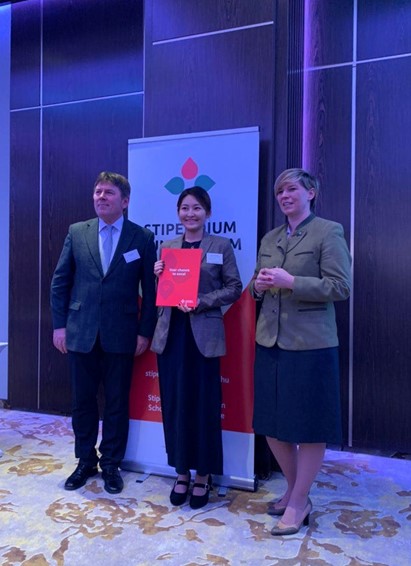 Suzune Kawamoto received the award in Budapest.
The Stipendium Hungaricum scholarship has opened doors Suzune could previously only have dreamed of. The Excellence Award is a milestone for her, but it is not the end of the road: she plans to stay in Hungary for a Master's degree when she graduates.
In the future, she would like to work on minority protection and immigration policy in an agency or NGO.
"I hope to find a job in Hungary. This was my dream and I am only a few steps away from it," concluded the award-winning student.