Only one month left to apply for Erasmus+ scholarships
For students looking to gain lifelong experiences and make lasting friendships during a semester abroad, Széchenyi István University offers a selection of over 210 partner universities. There is now just a month to go before the application deadline on 8  March. It is worth noting that students currently still in the second semester of their studies are also eligible to apply.
On the subject of her own motivation, Szabina Boronkay from Szombathely commented: "I had several reasons for taking part in an Erasmus adventure two years ago. I wanted to experience a different education system, practice my English, become more independent and prove to myself that I can stand my ground outside my comfort zone." The  student of Logistics Engineering at Széchenyi University spent several months at Genova University (Università Degli Studi Di Genova). She chose Italy on the basis of what she had been told by a friend of hers, who had also completed a scholarship there. She did not regret her decision, having enjoyed several tremendous experiences, which included watching a Juventus match and seeing the Pope as well as visiting beautiful seaside areas and even getting as far as Pompeii. Meanwhile she made some lasting friendships – she's still in touch on a weekly basis with two Columbians, an Italian, a Portuguese and a British student.
Apart from Szabina, over the last few years a significant number of Széchenyi students have experienced what it means to be an Erasmus+ scholarship holder, with over 500 having spent a period abroad as exchange students since 2012. The most popular countries among our students are Austria, Spain and Germany, but the choice is vast, as our University has  concluded agreements with over 210 higher education institutions spanning 26 countries. Moreover, The University of Győr is part of the Regional University Network together with the Polytechnic of Leiria and the Polytechnic of Cavado and Ave in Portugal, the Athlone Institute of Technology and Athlone Limerick Institute of Technology in Ireland, the NHL Stenden University of Applied Sciences in the Netherlands, the Finnish HAMK University and the Austrian Vorarlberg University of Applied Sciences.
"I would encourage everyone to take advantage of this opportunity. Time spent abraod is important not just because of the courses studied, but also because it is character-building and offers a chance to acquire experience. Those who have already participated in the programme returned with experiences of a lifetime, new contacts, a broader worldview, improved language skills and with greater maturity and confidence. These attributes and skills provide a substantial advantage on the job market." said Dr Eszter Lukács, Vice-Rector for Educational Affairs, who trusts that in the next academic year student mobilities will no longer be hindered by restrictions due to the pandemic.
The Centre of International Programmes provides assistance for any propective students looking to apply for an Erasmus+ scholarship abroad. Please note that current active scholarship holders cannot participate in multiple scholarship programmes simultaneously. In order for a student to study abroad, they must have active student status at their home institution as well as a valid residence permit in the home country of their sending university. For more information, please direct all your inquiries to erasmus@sze.hu.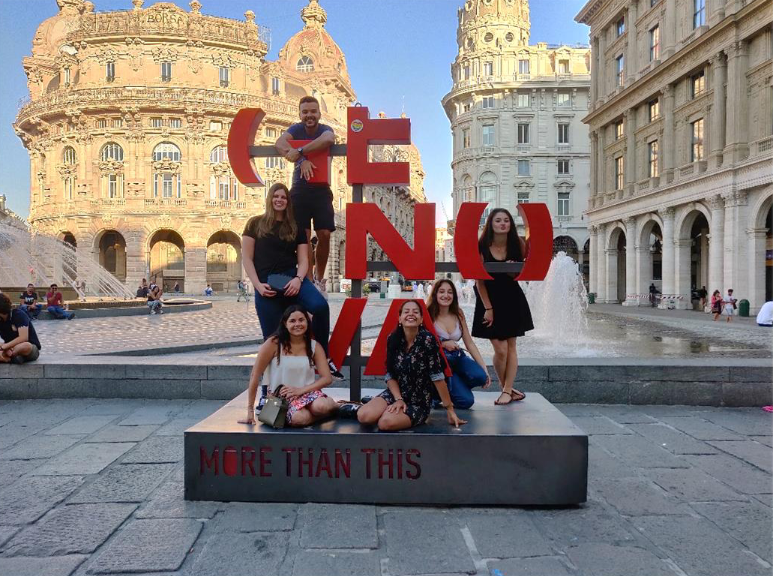 Szabina Boronkay (left, in black T-shirt) made lifelong friendships in Genoa.