SZE student represents Hungary at Thai Folklore Festival
Dorottya Barta, a student of Széchenyi István University, had a unique experience when she was able to represent Hungary at the International Folklore Festival in Thailand thanks to the University and Dr Miklós Bánhidi, a staff member of the institution. This example shows that there are many opportunities for students to study or to participate in cultural programmes, even in exotic locations. The teacher-to-be from Széchenyi spoke about her unusual experiences.
This autumn, Thailand hosted an International Folklore Festival, a year later than originally planned, due to the coronavirus epidemic. Dorottya Barta, a student who has already graduated from Széchenyi István University as a recreation organiser and is currently studying to become a teacher, took part in the event, which also aims to strengthen world peace and international relations. In 2018, she and the Hungarian delegation were present at a similar event in China, where their excellent dance choreography led to an invitation to the Thai festival.
During the programme in the Southeast Asian country, they not only captivated the audience with their performance, but their experience also helped them to organise the event and gain a lot of experience. "On one occasion, we enjoyed the hospitality of a nearby village. We were given special attention and they danced and performed for us,"said Dorottya, who revealed that the interest between the Thais and Hungarians was mutual and that the students there would like to visit our country one day. She added that Thais are very friendly and hospitable people and during their stay, they were treated very well. In addition to the popular tourists sites, the hosts also gave them a glimpse of the country's lesser-known areas, so they could see the real face of the exotic culture.
Dr Miklós Bánhidi and Dorottya Barta
Excellent relations were built at the events in China and Thailand, as shown by the fact that both countries invited the Hungarian group back for future programmes, and partnerships were also established with Bulgaria and India. The latter country will host the 2023 Folklore Festival, to which they have also been invited. This means the future promises to be exciting for the student from Széchenyi István University.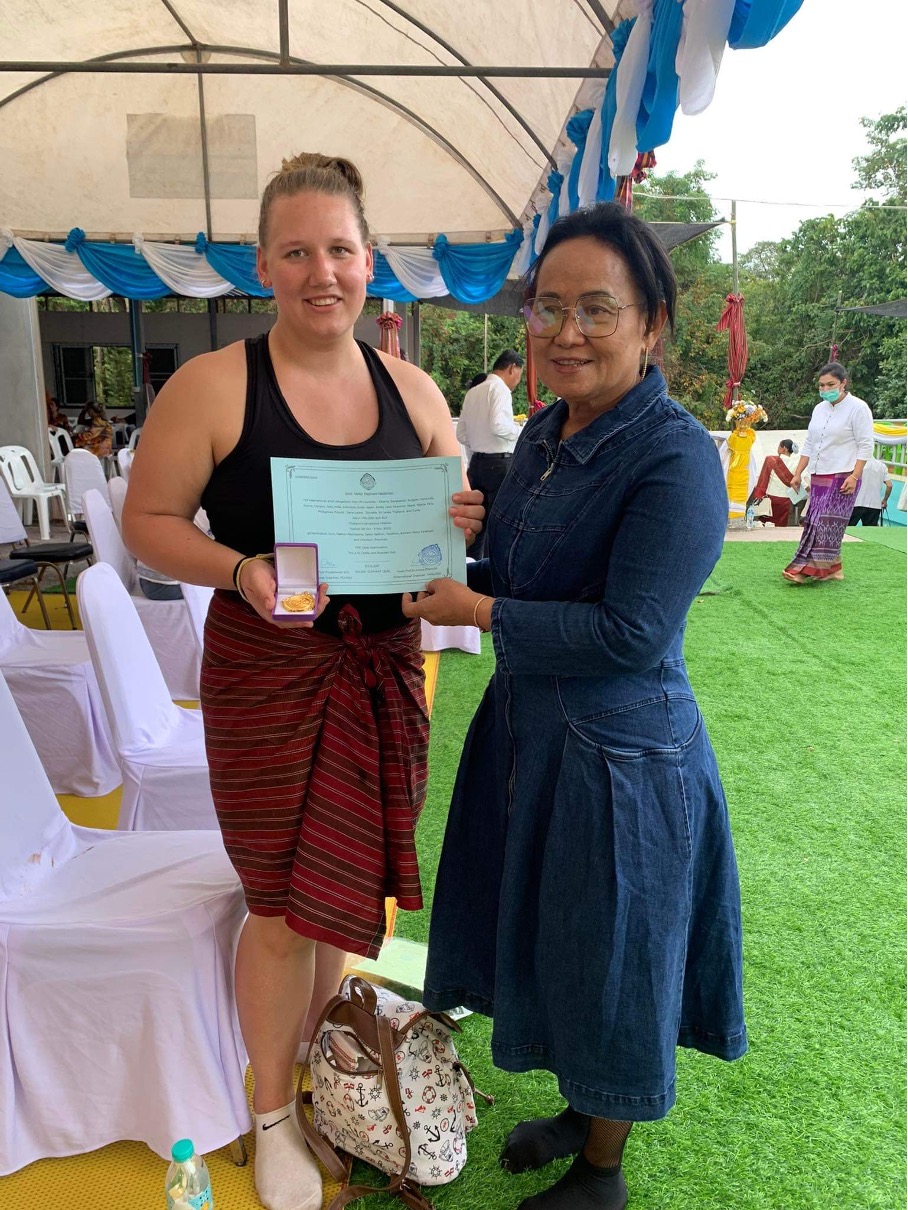 Dr Achara Phanurat, the festival's chief organiser and former rector of Rajabhat University, presented Dorottya Barta with the Golden Elephant Award in recognition of her work.
Dorottya Barta is grateful to Széchenyi István University and to Dr Miklós Bánhidi, a colleague of the institution, as the international contacts she has built up have enabled her to attend festivals abroad, where she has successfully represented Hungary, both as a participant and as an organiser. She hopes that in the future she will be able to build contacts with more students, which could even be important from an educational point of view.
The Hungarian delegation presented a flashmob as a gift to the Thai people and to those from other countries.