Széchenyi István University Engineering Team Wins Award at Design Competition
A team who two years ago received an investment in SZE's startup programme has been presented with a prestigious international award for their artificial intelligence-based traffic management and accident prevention system. By setting a good example, team members want to encourage young people with an entrepreneurial spirit to achieve their dreams.
A team of engineers from the University of Győr, with members being mostly current students and alumni, but also lecturers, has achieved international success. Their AX System, among almost 10,000 entries from 52 countries, was awarded the IF Design Award in the "product" category by a jury of renowned professionals. Founded in 1954, the IF Design Award is one of the most prestigious design competitions in the world, where, in addition to appearance, the ideas, the innovation, the topicality of the solution and the execution are also evaluated. Traditionally, major institutions and companies compete for recognition. This year's competitors included Apple, Audi, Siemens, Virgin Galactic and Bosch.
In collaboration with Széchenyi István University, within the framework of a programme aimed at helping entrepreneurs to implement their ideas, the brand new IF Design award-winner is being developed by a team from Safety Logistics Kft. "As one of the first to do this, we have a great responsibility to set a good example and thereby encourage enterprising young people to achieve their dreams. In addition to the University, in this we have the help of Quantum Leap as mentor and Hiventures as capital investor," said managing director Gábor Nemes.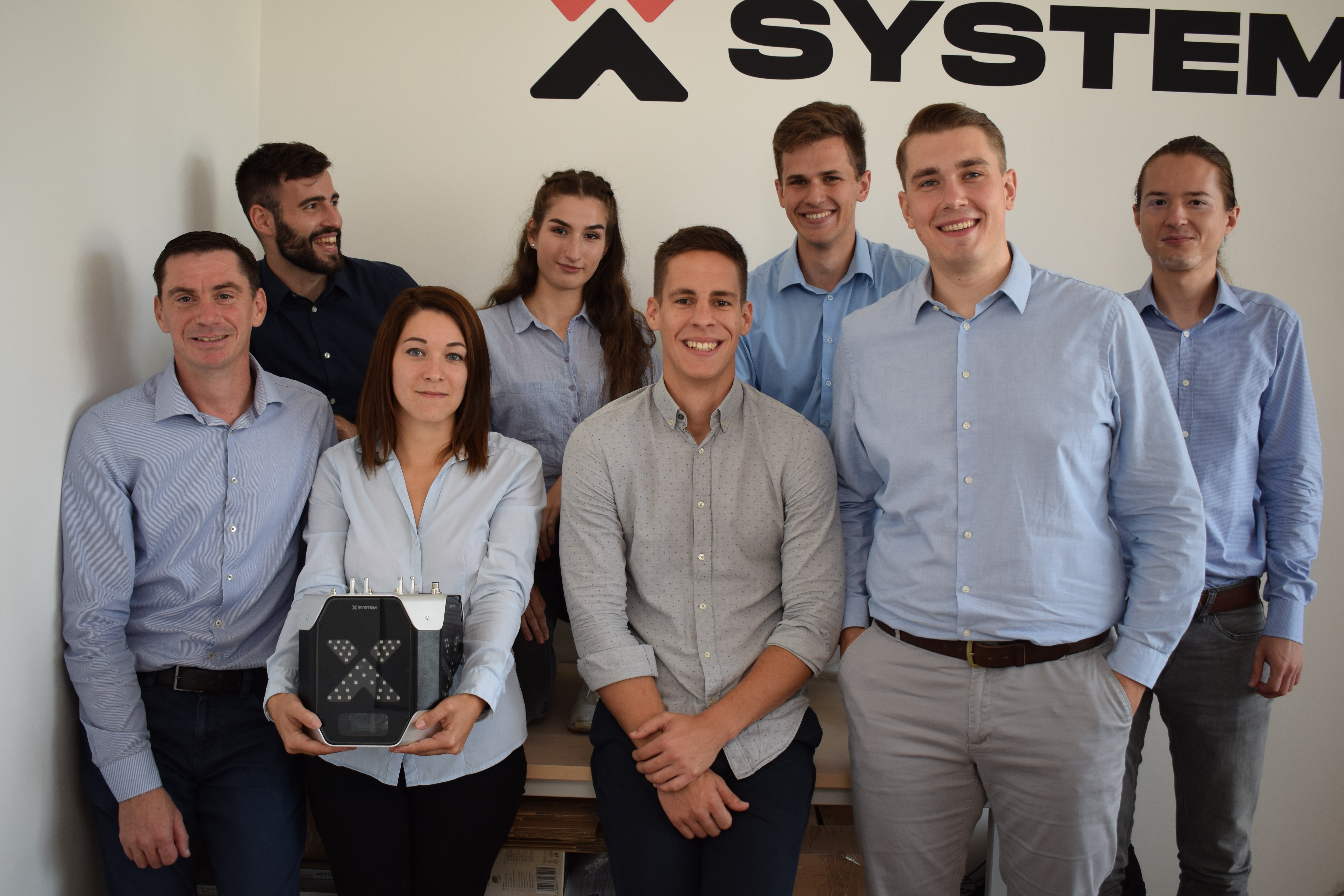 The Széchenyi István University engineering team is full of plans
The AX System is an artificial intelligence-based traffic management and accident prevention system developed by the team to increase traffic safety in production halls and warehouses. Its special feature is that it recognizes objects and their direction of travel, making a decision  on this basis as to whether it is necessary to intervene with a warning signal, or in another way, in order to avoid an accident.
The four young founders, originally from the town of Szentgotthárd, joined the University's innovation stimulator startup programme in 2019. The team, since expanded to nine members, envisions their future in Győr. "Our lives are a constant redesign, so I can't say what will happen tomorrow, but we are having a good time here and we want to direct our activities from here for as long as possible," explained Martina Nemes.
About the tasks ahead, Áron Agg and Péter Murányi, senior development engineers, revealed that in addition to expanding the product portfolio, their next big task is serving their growing customer needs. This is also a major challenge because the protection provided by AX System is available not only from their distributors, Prominens Kft., but also via the Hungarian sales network of Linde Material Handling.
"The award, of course, is not just in recognition of our work. In addition to the institutions already mentioned, we were assisted by the multiple Red Dot award-winning design team Flying Objects, by Cad-Terv in the development of the first version of the prototype, by Zoltán Katona and Zeroz Films  in the production of the photos and video material for the presentation of the product, and also by the Velux factory in Fertőd which contributed to our success by providing suggestions and a test site, " detailed Gábor Nemes.
"The future? We would like to further expand this great team, and always to offer our customers and partners a little more than they expect, and also to start launching the product abroad," Mr Nemes concluded.
The artificial intelligence-based traffic management and accident prevention system has been developed to increase traffic safety in production halls and warehouses.