Széchenyi István University Sports Association's judoist prepares for the Paralympics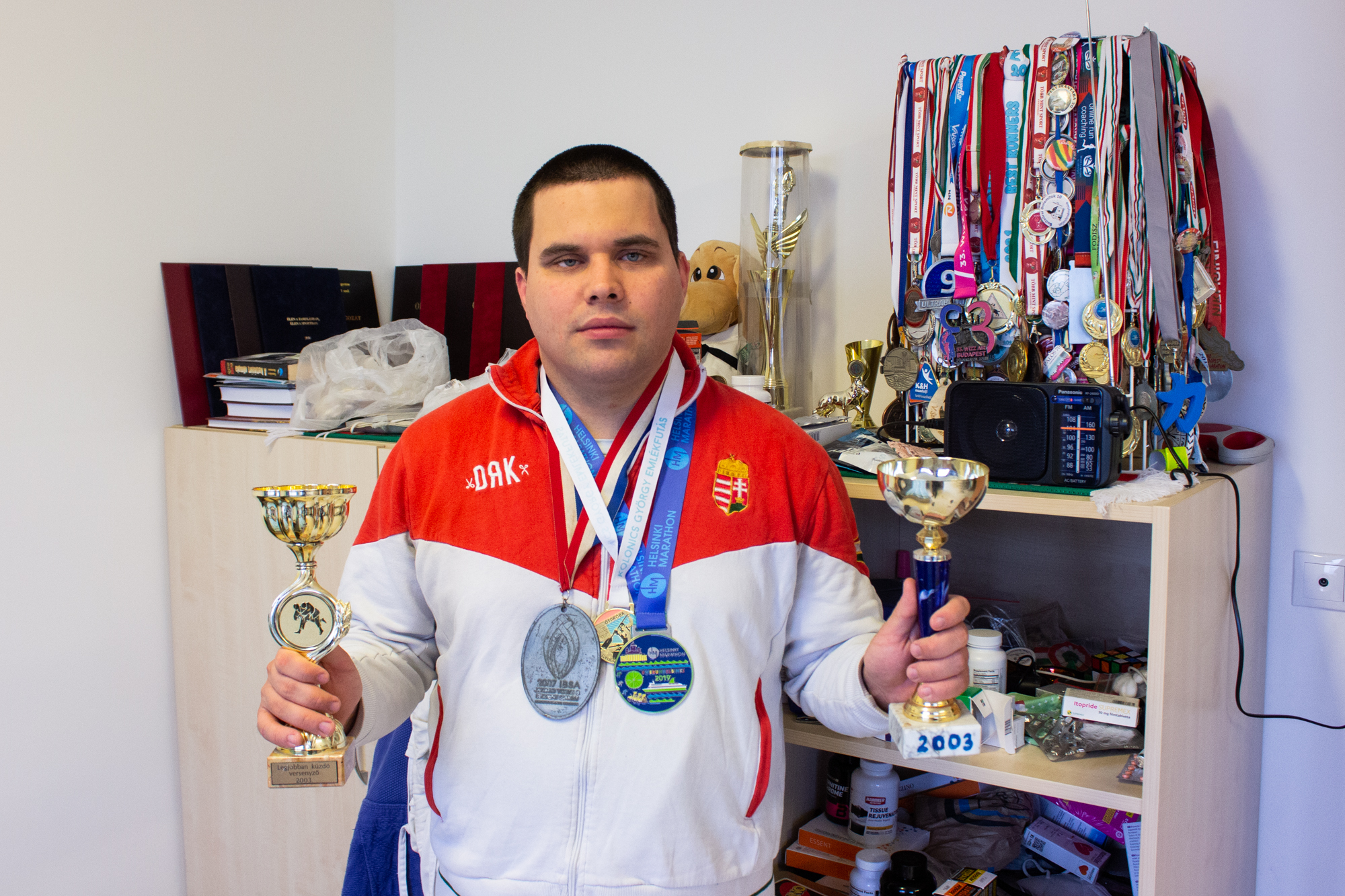 Norbert Fóris, a visually impaired student on the Masters programme in Sports and Recreation at Széchenyi István University, is striving to participate in the judo competition at the 2024 Paris Paralympics. He says he has been given more care and attention at the University's Sports Club than  anywhere before, and he has also fallen in love with the community here and the city.
Norbert Fóris was born 27 years ago to a family living in Dusnokpuszta, a tiny settlement belonging to Sajószentpéter in Borsod county. Together with his twin brother, he was born prematurely, severely underweight and, as it turned out within a few weeks, blind. If he started life with multiple disadvantages, he did not collapse from these difficulties, but tried to get the most out of what was given to him. Having attended the Primary School for the Blind and the Neumann János Secondary School of Computer Science in Budapest, he has since obtained two degrees – in Recreation at the University of Physical Education and a Bachelors in Public Administration at the National University of Public Service. He loves studying, so he has not stopped since and he is still studying. He is a correspondence student at ELTE on a Master's degree programme in Community and Civic Studies and, since September last year, has also been a full-time student on the Master's programme in Sports and Recreation at Széchenyi István University.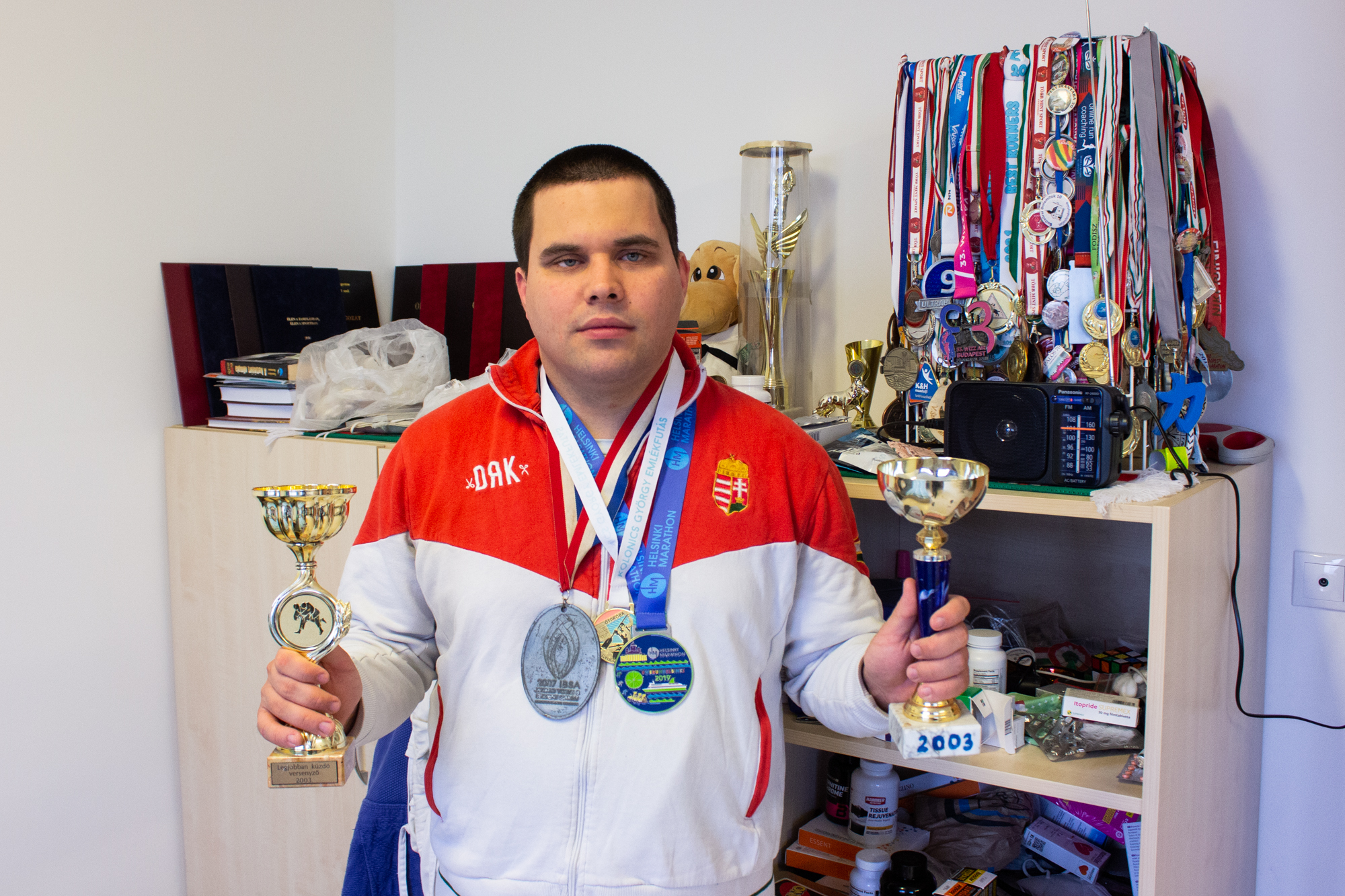 Norbert Fóris's career as an athlete so far has been marked by a multitude of cups and medals.
(Photo: Márton Horváth)
"Győr came up when, at the end of 2019, the leader of the Hungarian rowing team's paralympic section asked if I would like to be his student and to move here. I said 'yes' because in any case my girlfriend and I wanted to leave Budapest. I had got tired of the congestion there and longed for a calmer environment. I had read a lot of good things about the University of Győr and knew that their internship placements were good and that the education was innovative. I haven't been disappointed," he replied. With his partner and his dog Gyömbér (Ginger), they were given a spacious room to meet every need in the Halls of Residence, and since the University's premises are barrier-free, attending classes is no problem.
As can be seen from this, and having previously been supported by the Suhanj! Foundation, sport is crucial for him. He loves running and rowing, occasionally entering competitions, and these sports are a great complement to his favourite, judo, which he has been practising on and off since he was seven years old. "I came to Győr also because here I felt I could create better conditions for doing sport," he said. Judo is available in the department of the Széchenyi István University Sports Association (SZESE), where Nikolett Gyimes is his coach. "Niki is a determined, very good professional. Previously, not all coaches gave me enough attention, but she devotes time to me and is extremely patient. She has already taught me techniques that previously two trainers had not been able to do," he said, praising his trainer.
Norbert has serious aims in this sport, as he wants to get to the 2024 Paris Paralympics. He feels he has a good chance, because after this year's Tokyo Games the rules will change and the blind will be taken separately from the visually impaired and those with low vision.  "It's a lot easier to fight a blind opponent than one who can see something. Although it did use to happen that in grappling championships, where the fight does not start from a standing position, I could defeat healthy competitors. To prepare for the Paralympics, I will have to enter international competitions, because apart from me, in Hungary there is only one blind judoist, who is female. I also train a lot, of course. I do two and a half hours of judo three times a week, and I row and run on three days. I only take a rest on Sundays," he said, revealing details of his schedule.
Norbert Fóris has fallen in love with Győr, and is especially fond of Kálóczy tér. He enjoys being both in the gym and at the University, so he definitely wants to spend the next three years in Győr and  dreams of setting off from here to the Paris Paralympics.
His humility is exemplary
"Working with Norbi is a big challenge for me as I've never had a blind judoist, who has a much harder time visualizing than a sighted person. My colleague Ernő Szabó and I have to figure out what to do and how to do it, and we also try to find professional materials on the internet." said Nikolett Gyimes, head of department at the University's Sports Association. At the same time, she says it is a great help that her student is extremely enthusiastic and has exemplary humility.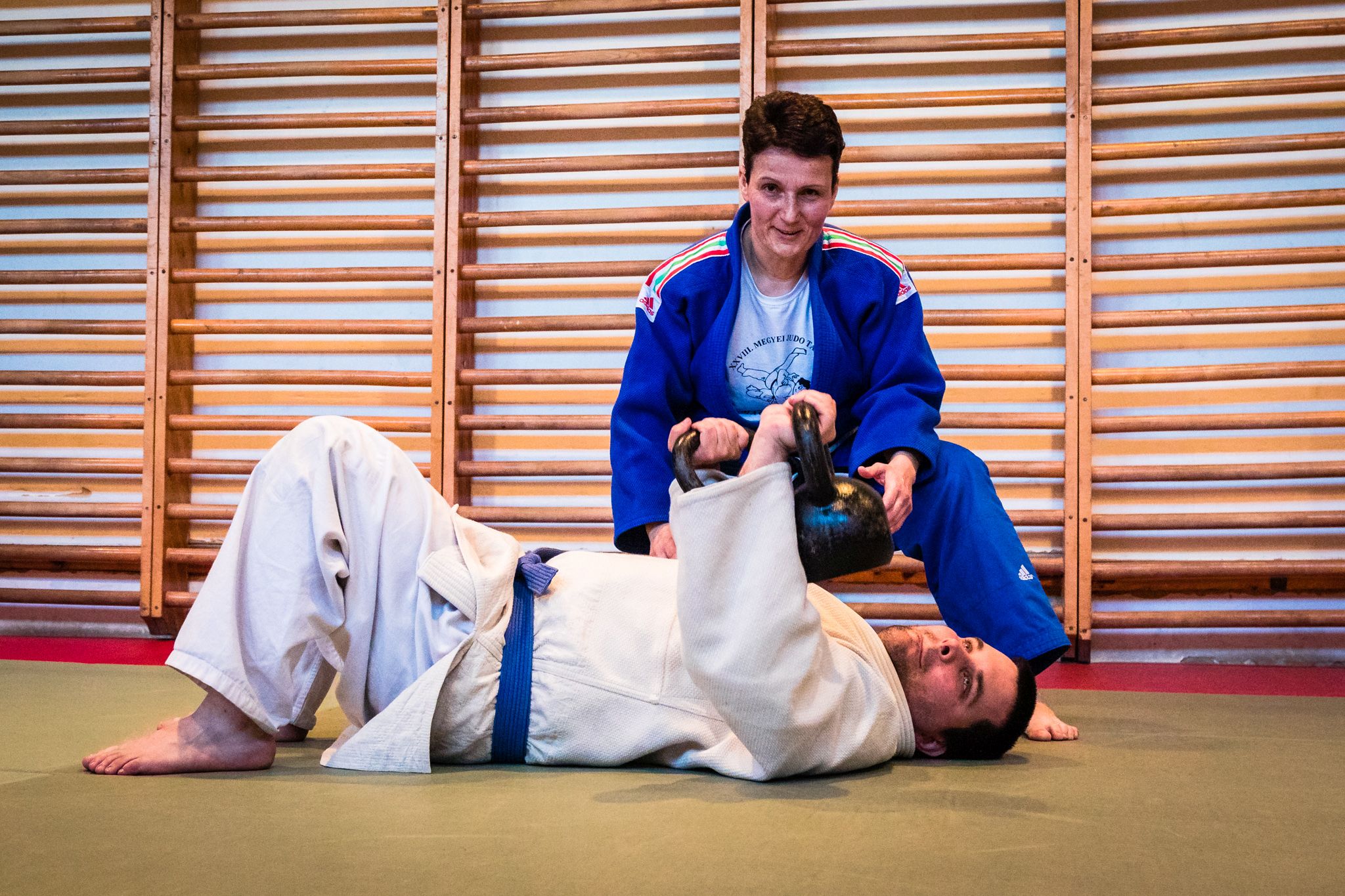 Nikolett Gyimes is in charge of the athlete's training. (Photo: József Csaba Májer)