The Angolan alumnus of Széchenyi University is envisioning his future as a diplomat
"My country needs qualified professionals, I would like to be one of them," Marcos Alberto Seraponzo, the Angolan student of Széchenyi István University admits. Originally, he wanted to learn pedagogy in Europe, now it is his dream to become the ambassador of his country to Hungary. Our article reveals how Marcos went from teaching Portuguese language to a degree in international relations, how he found a new family in Hungary, and why he is thinking about opening his own business in the future.
"I got my secondary certificate in 2015, then I taught Portuguese to children in Luanda, the capital of Angola," Marcos begins telling his story. "The state of Angola wanted me to further develop my education abroad, to gain foreign experience and to bring home this knowledge to be able to use it for the benefit of the local education. I was sent to Hungary as I was able to study here with a scholarship thanks to the agreement between the two countries. I did not know anything about the country but I was happy to welcome the challenge," he revealed.
The Stipendium Hungaricum scholarship programme offered two language options: the applicants could study in English (in this case they could immediately apply for the university courses) or they could choose the Hungarian training programme which – for faster integration – started with a one-year language preparatory course in Budapest. Marcos decided in favour of the latter one, so he arrived in Hungary without knowing where he would continue his studies after successfully finishing the 'zero year' – the question for him was, which higher education institution he would commit to for the next period.
"I was convinced by the fact that the university of Győr enjoys a great international reputation and degrees from here are recognized all over the world. The city's location is also excellent, both Austria and Slovakia are close. It has been the best decision of my life that I chose Széchenyi István University then," he noted.
Originally, Marcos wanted to study pedagogy in Hungary, but finally he dropped his anchor in the field of diplomacy
The Győr phase of his life did not start smoothly for the Angolan boy, as he soon ran into language barriers. There were occasions when he did not understand anything from a lecture, except for "Good morning." and "Goodbye!" He often made audio recordings of the lessons so that he would have time to listen to them and translate them. However, his fellow students helped him with everything: they sent him notes, explained what he did not understand. Thanks to this and to his diligence, Marcos was able to compensate for the language barriers and finally he completed all his subjects in his first semester.
"The Hungarian language is a very special, and at the same time a very complex language. Even though I practised it for a year and I could understand and speak this language, I was far from those who had been using Hungarian since their birth. I had to concentrate a lot especially during the law lessons. Fortunately, my friends and teachers stood by me, for which I am extremely grateful," Marcos stated. He also added that he changed to an English language course after the first semester in order to prevent further possible difficulties.
Marcos in a circle of international students
Marcos's stay in Győr is a real success story. During his studies, the international student has mastered everything that can be necessary in diplomacy – from intercultural communication through negotiation skills to political science. Over the years he has developed his debate skills, his problem-solving skills have strengthened, and his creativity has refined. All of these are essential for a successful career in this field.
"I spent my internship at the Angolan embassy where I could make use of what I learnt at the university. I worked at the reception; I received phone calls and answered questions. I shared basic information on Hungary with tourists, I informed students about scholarships, and I gave advice to many people on which university to choose. I enjoyed working there. I keep going back to help them, and they are always happy to welcome me," he said.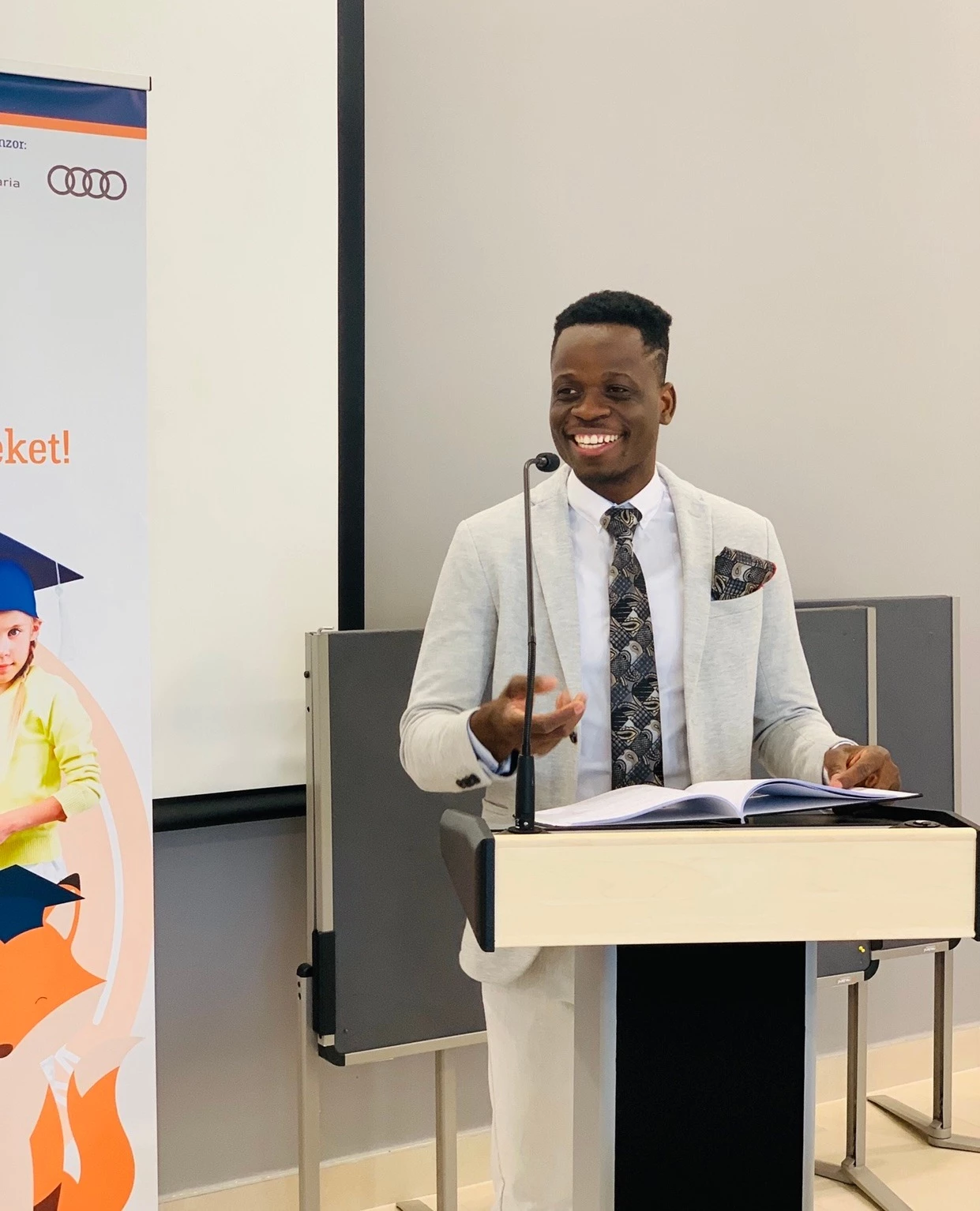 According to Marcos, he has learnt everything at Széchenyi István University that is necessary for his chosen profession
It is Marcos's dream - similar to many students majoring in international relations – to serve as the ambassador of his country to Hungary. As he said, he has gotten to know and love the Hungarian culture, he knows his way around the country. He often brings up that he has become half Hungarian in the last six years, so he would really enjoy it if he could work either at the Angolan Embassy in Budapest, or at the Hungarian Embassy in Luanda in the future. He believes that with the knowledge he has acquired at Széchenyi István University several doors are open to him, thus he could even continue his career as a political analyst.
"Following the bachelor's course in international relations I decided that I would like to complete the master's course at Széchenyi István University as well," Marcos declared. Currently he is an alumnus and a student of the institution at the same time as he has continued his studies at the master's course in marketing. But why did he choose this major?
"It was my primary objective to work in a diplomatic field but I am also interested in the world of economy. It seemed that Széchenyi István University can give me a lot in this area as well. Later I would like to establish a business, I might go into a start-up project. Because of this I definitely felt it is important to further develop myself. In the summer, after a long time I am going to return to Budapest to gain experience in this profession as well," he said in answer to our question.
Among his family members Marcos is the only one who tried his luck abroad. Here he showed his family members his degree obtained in Győr
The would-be diplomat also told our portal that he would like to return home to Angola where he could benefit from all the intellectual capital he gained during his studies.
"When a Hungarian ask me if I would like to stay here, I always tell them that »I would like to stay here until the end of time«," he says, accompanied by a mischievous smile, which indicates that he is joking. Nevertheless, every joke is a half truth – and Marcos really feels at home in Hungary.
"It is difficult to point out a lifetime memories because I enjoyed every single day here. I could pick out the graduation ceremony when my friends and my Hungarian family were also celebrating with me. I usually refer to them as my family because they have actually become my Hungarian family," he referred to the people close to him next to whom he feels he is never alone, and he can always count on.
One of them is Piroska Gellér, the porter of the Multifunctional Building, who has become his mother instead of his mother in the last years: they often talk to each other, give presents to each other. Moreover, Piroska also participated in Marcos's graduation ceremony. The Angolan boy is a frequent guest at the family of one of his friends from Mosonmagyaróvár – they treat him as their adopted son.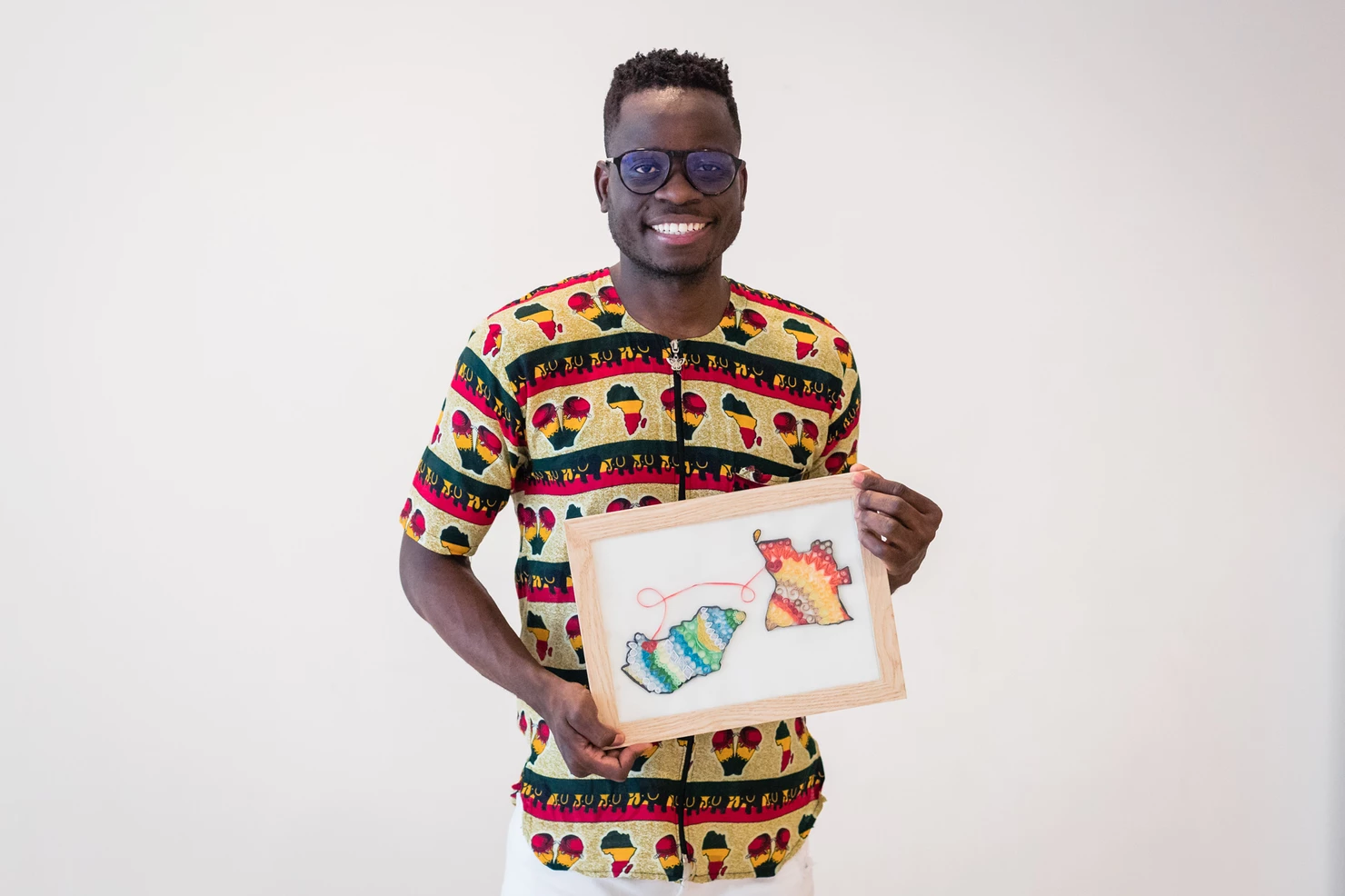 Marcos also received a gift from his friend, which symbolizes the relationship between the two countries (Photo: Csaba József Májer)
"I have eight siblings but I am the only one who lives abroad. I can only see them once a year, so I really miss them. Of course we keep in touch online. Fortunately, the international community at Széchenyi István University is very strong. We organise a lot of common programmes, we support each other," Marcos also praised his fellow students. We asked him questions about his impressions of the Hungarian society as well.
"It was striking how punctual Hungarian people are. If something begins at ten o'clock, it begins at ten o'clock. The schedule must be followed because the bus leaves if you are not there on time. It is true in work as well, deadlines must be met. We handle this much more relaxed, I had to get used to it," he mentioned it as one of the differences between the Angolan and the Hungarian perceptions. By the way, he considers the Hungarian people kind and helpful but he feels they have difficulty opening up to strangers – it takes them a while to confide in people.
Currently Marcos is focusing all his attention on completing the master's course and on enjoying every moment he can spend in Hungary as a student of Széchenyi István University.
"Whatever will happen, I will never forget the years spent here, which have determined my life. I could not have asked for a better fate. I am happy. And I really would not mind if I could stay here until the end of time," providing the perfect conclusion to our article.