From Mexico to Győr: "I became a more complete person at SZE
"I didn't choose Győr, Győr chose me," says Rebeca Mendoza, who came to Széchenyi István University from Mexico in 2018. We talked to the now graduate student, who currently lives and works in Budapest, about the motivating power of the Stipendium Hungaricum scholarship, the international student community in Győr and the cultural differences between the two countries.
It's 2018, when a Mexican girl decides to try her luck on the other side of the ocean in Europe. A few months later, after a successful admission procedure, she enrols in the Master's programme in Supply Chain Management at Széchenyi István University and soon finds herself in the hustle and bustle of Freshers' Week. In the blink of an eye, it's the summer of 2020 and she's graduating as an economist in Győr. We jump in time again, this time to the present. Rebeca Mendoza lives and works in Budapest as sustainability consultant at Schneider Electric. This article paints a portrait of her and her journey.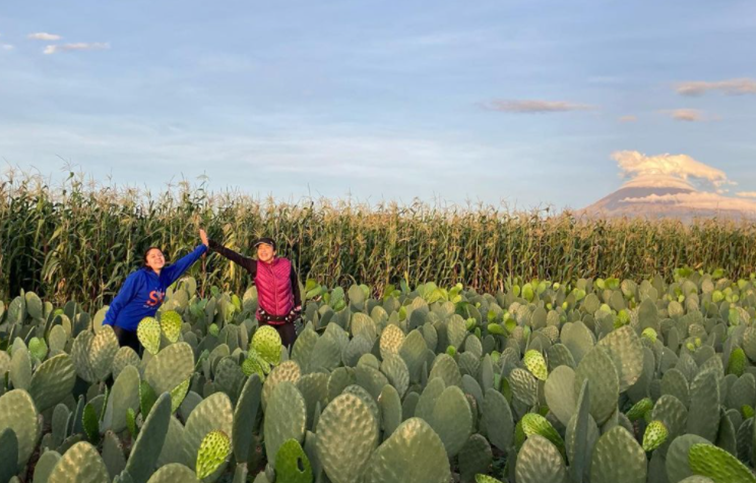 "I graduated with a bachelor's degree in international management and then worked in Mexico City for three years in logistics. I wanted to do further studies and I was also attracted by the adventure of living abroad, so I decided to come to a European university," said the Mexican girl, starting to tell her story.
"I have to admit that from Mexico, when you think of Europe, Hungary is not the first country that comes to mind. It's London or Paris that spring to mind. I wanted to go to Sweden or the Netherlands first, but I didn't get a scholarship there, but I did in Hungary, which was important for me. I think that the Stipendium Hungaricum programme is one of the best that non-European students can get," she said, explaining her decision.
Rebeca also told us that she did not hesitate much when choosing Széchenyi István University. The reason is prosaic:  at that time, no other institution in the country offered a Masters degree in Supply Chain Management for international students, only Győr. "I was determined. It was this degree or nothing. So I didn't actually choose Győr, Győr chose me," she joked.
Some of the 2018 international students arriving in Budapest
The young student was immersed in the life of the international community at Széchenyi István University, which is still a defining moment for her. Not only did she find companions, but her personality also developed a lot during her two years in Győr.
The excellent and varied programmes gave her the opportunity to meet people from all over the world, allowing her to get to know other cultures and to see how different societies work. It was not only exciting, but also very rewarding - as well as shaping her thinking, it has given her an international routine that will enable her to operate confidently in any multinational corporate environment.
She said he was delighted that international students at Széchenyi University are now able to compete in the prestigious Hungarian Scientific and Artistic Students' Conference,  at which in 2018 she and fellow Chinese student Fu Yingjie won first prize for their paper titled The Situation and Prospects of the Self-Driving Car.
"I am very grateful to have met so many great people. Whether it's in college, during evening parties, or in different projects, I am grateful to all of them for helping me to become a more fulfilled person. I think that's why the years in Győr have been particularly valuable for me," she said.
During her studies at the Széchenyi, Rebeca also participated in field trips and in the Scientific Student Conference. In the latter, she won first prize in a team with Fu Yingjie.
Rebeca and I of course talked about the social and cultural similarities and differences between her home country, Mexico, and her new home of choice, Hungary. At the request of our portal, the Széchenyi University alumna mentioned a few of both.
"For me the strangest thing was the winter, not the cold, but the long nights. It's already dark at 4 p.m.", she laughed, and then went on to talk about gastronomy. "The role of paprika is certainly emblematic of both countries," she said, drawing a parallel between the cultural significance of Hungarian hot peppers and chilli peppers. "Mexican cuisine is full of delicious dishes, so it's hard to impress me, but goulash is really delicious. I also like Hungarian wines. But if I miss the flavours of home, I like to cook for myself," she concluded.
Rebeca had eventful years as part of the international community at Széchenyi, including visits to the Üveges Bar, the Mexican restaurant in Győr and Lake Balaton.
Rebeca said that public safety in Hungary is excellent. She also said that our country is lucky to have a clean natural environment and that it was astonishing to her that you can drink tap water because it does not harm you.
"In Hungary, it's completely natural and self-evident. Unfortunately, in most of the world, this is not the case. This says a lot about the financial possibilities of the state here and also about the high technological level in the country," she pointed out.
As we have seen above, Rebeca is passionate about the environment and sustainability. Her Master's thesis was also related to this topic, analysing the waste management of Mexico City in terms of supply chains. She has been interested in this field from the beginning and believes that what she learned at Széchenyi István University has helped her to become a sustainability consultant at Schneider Electric.
"The role of a sustainability consultant is to help companies who want to reduce their carbon footprint. We make suggestions to them on how they can reduce the carbon emissions from their processes and what regulations they have to comply with," she explained, with a palpable enthusiasm in her voice.
Rebeca with her current colleagues in Budapest.
So it seems that Rebeca's ship is anchored in Hungary for the long haul.
"My goal now is to continue my career on the path I have started. For now I am happy in Hungary and I might even settle down here eventually," she concluded.